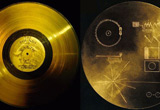 It was Fatboy Slim who first put me wise to the 'democratisation of music'. In a staunch defence of music sampling's domination of the late-'80s music charts, his arguments were a taste of things to come…
Major labels and big-room recording studios were struggling in the face of project recording and on-line distribution. Now, WholeWorldBand and Songkick Detour are offering fresh takes on music recording and gig promotion.
This is nothing to do with political democracy. It's about the successive generations of ever more powerful yet affordable digital equipment that took newly empowered musicians to a door that was then opened wide by the internet. So, what's the deal with WholeWorldBand and Songkick Detour?
Both internet based, Songkick found its feet in 2007 as a gig listing service and has recently added Detour as a means of bringing gig-goer power to concert promotion. Even more recently, Kevin Godley has put his name behind WholeWorldBand as a development in musical collaboration that he terms 'inclusive music'. Both combine musical aspiration and technical advance with a viable business model (a rare commodity in internet exploration).
Kicking off...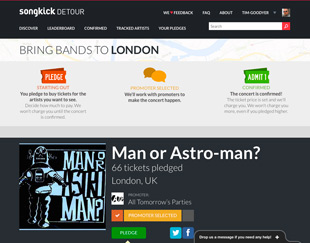 Now counting more than 5m users, Songkick matches your location with your favoured artists and local gig listings to give a personalised music itinerary – quicker and more reliable that trawling bands' websites, the music press and local What's On guides to find the gigs you need to see. It 'went app' in 2011, welcoming the new media generation.
'At its core, Songkick ultimately cares about two things – innovation and fans,' says Soundkick's Daniel Rogers. 'Innovation is obviously primarily tech-driven, and we consider ourselves to be primarily a tech company, but innovation isn't only about technology. Innovation can also be around business models – such as Netflix and DVD rental, or in our case live music. We've got millions of fans around the world using Songkick, and we want to do something innovative to help them, which is not necessarily limited to technology. What does that look like?'
It looks (and sounds) a little like a Kickstarter venture, actually…
Rather than offering a listing of the gigs that are in the pipeline, Songkick Detour invites fans to pledge to see artists in advance of a gig being arranged – complete with a maximum ticket value. Once enough pledges are made, the Songkick team is able to work with the act, promoter and venue to make the gig happen. Trialled in Singapore and Jakarta on the basis that neither fans nor bands were served best by the established promoters' model, Detour is now broadening its horizons.
If successful, it promises to identify gig opportunities and remove promoters' speculation from marrying ticket demand with choice of venue. Most likely to benefit, it should get the vote of left field acts, as well as those still establishing their fan base.
WholeWorldBand is a more ambitious concept. And it comes with Godley's tech track record, having left chart-topping 10CC with band mate Lol Creme in 1977 to change the face of the pop video. Now he is looking at 'a new music platform, and one antidote to the current state of the recording industry'. This time, it's the recording musician who stands to benefit.
Exploiting the internet's file-sharing capability, WholeWorldBand enables composers, musicians and bands to share their efforts with those who can help develop, perform and record them. As the WWB site has it: 'Music is important. Music has value. Music is worth paying for'.
WholeWorldBand combines an audiovisual music platform and mobile app, enabling 'anyone' to earn money by recording their own music or adding to someone else's. Conceived as a 'global video recording studio in the cloud', the aim is to break the longstanding barriers between established artists and emerging talent to the benefit of both. As a WWB member, you can contribute to others' sessions or begin your own – and you may find yourself working with musicians whose names you've only seen in record credits – like Stewart Copeland and Ronnie Wood.
Godley says: 'Composers and musicians are the life-blood of the recording industry but they are increasingly short changed in an on-line music economy that values the needs of the consumer above everything else. Yes, money changes hands, but we don't believe enough of it goes to the musicians and writers who lovingly craft the sounds that move us.'
Along with the new models of music distribution and those that are yet to come (possibily based on spimes, as I discussed in my last blog), these enterprises promise to take music into futher uncharted territories.
...and touching down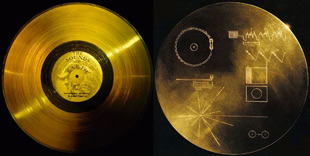 In contrast to our pursuit of progress here on Earth, we are already committed to our first long-distance contact with other civilisations.
Launched in 1977 (the second time in this blog that we've seen that date) and now upwards of 18,500,000,000 km from earth, the Voyager 1 spacecraft will be the first man-made toy to leave the solar system. Along with its instrumentation, it carries a gold disc and accompanying stylus, along with instructions on how to build a machine to play it. Ironic that it may be an already outdated technology that has the greatest longevity...
If Voyager 1 (or its Voyager 2 sister) ever arrives in the hands of an alien civilisation, it is possible that such a turntable would be made by future technology, such as fabbers. With Voyager's most likely first stop being Gilese 445, after a journey time of around 40,000 years. It is impossible to speculate on the shape of Earth's music business so far into the future, but I'd love to see if Earth is also enjoying a vinyl revival at the time.