The UK television series
Outcasts
saw production fall to London's Hackenbacker to handle all of the audio postproduction work.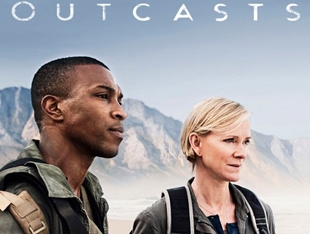 With film and television projects such as Spooks, Hustle, Life on Mars, Hotel Babylon and Downton Abbey to its name, Hackenbacker was a logocal choice for the assignment, with a skilled team that includes James Feltham, who pre-mixed Outcasts in Studio Two, and Nigel Heath and Alexander Fielding tackling final mixing in Studio One.
The series was filmed in South Africa, and offered the chance to create new and unheard atmospheres and technical effects that are literally 'out of this world'.
The ISDN connectivity in Hackenbacker's Studio 3 allowed the directors to participate in remotely recorded ADR. Studio 3 was the chosen venue for the show's UK based artists because its neutral acoustic makes it one of the best-sounding rooms for ADR in the UK. Hackenbacker's Foley stage was also kept busy on Outcasts as it was used to create many of the sounds for the varied environments on Carpathia. These proved quite a challenge for the team, led by Foley engineer Keith Partridge. The wealth of spectacular sequences, combined with music by Paul Englishby, has resulted in a series that is a sonic tour-de-force.
'One of the biggest challenges was the dialogue,' says Hackenbacker Director, Nigel Heath. 'With no traffic or similar constant sounds on Carpathia, getting the dialogue to a clean enough state to create the illusion of our fictional location was a tall order. However, we did it – and we did it without filtering it to death, which was good. As for the effects and music, well, it's always fun to mix a sci-fi project with rockets, space ships, massive meteorological events and a big score.'
Outcasts is a Kudos Film & Television, BBC America and BBC co-production, distributed by BBC Worldwide. Series producer Radford Neville says choosing Hackenbacker to handle the audio post was a straightforward decision: 'The Production Team of Outcasts were confident that Hackenbacker would be equal to the challenge of creating the soundscape for a whole new planet. They embraced the task with flair, creativity, technical expertise and lots of patience! The results are truly outstanding.
'We required extremely clean dialogues and I was very impressed by the smooth running and success of ADR sessions down the line from Hackenbacker to South Africa and America,' he adds.
Due to air in February on BBC 1, the eight-part drama series is set in the future on the recently discovered planet of Carpathia, which is home to the surviving population from Earth. The Outcasts are a group of people who have left their old lives on Earth behind in extraordinary circumstances. Each one has been promised a second chance at life and an opportunity to create a new society, far away from home, family, friends and the past. The series tells of their dilemmas, loves and lives - and of the mystery that lurks around them, threatening to shatter Forthaven's fragile peace.
More: www.hackenbacker.com