Live sound products and services company Tour Supply has announced the opening of Nashville headquarters for its Playback Control system in partnership with audio designer, programmer and drum/keyboard tech Viggy Vignola.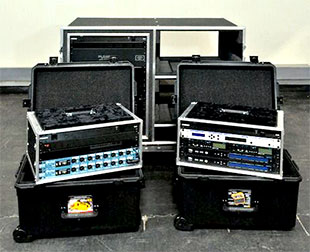 'Our new facility provides bands, performers and technicians with an inspiring and eclectic space to see and experience what their show could be like with Playback Control,' says Tour Supply CEO, Lance Wascom. 'We encourage all who are interested to come check out a demo and see how Playback Control can transform a show.'
Playback Control combines Tour Supply's hardware expertise with Vignola's software programming to create an easy-to-operate playback system that incorporates audio, video, pyro and lighting into a platform that works automatically, without assistance or management, during a live show. 'Playback Control was built with the intention to create an all-encompassing playback system that can run itself,' Vignola explains. 'Bands can literally "set-and-forget". Gone are the days when a musician had to run over to a pedalboard to switch to a different Midi effect during a live performance. With Playback Control, we can program all effects – audio, visual, and much more – to occur automatically without any effort on the performer's part, and without an expert technician to manage it.'
Playback Control system fills an otherwise unoccupied industry niche. 'No other company is building and selling comprehensive playback rigs that can be purchased, customised, and taken on tour,' says MotU Product Specialist, Dave Roberts. 'Playback Control is making the world's best playback system accessible to any performer that would typically have to hire an expert technician to build it and closely manage it throughout every performance.'
While the Playback Control rig includes two 13-inch Macbook Pro computers, a Radial SW8 matrix switcher and multiple MotU Playback Interfaces with DP9 Software – every show is customised to the performer's preference. For instance, in addition to providing pre-programmed effects, songs could be divided into multiple parts to allow the performer or band to jam or speak to the audience at a certain point during that song.
'The platform isn't automated to prevent freedom or jam sessions on stage, but it does time everything perfectly so that a glitch in the background video, or a poorly timed firework, is never a concern again,' Vignola says. 'Between the reliable hardware and special software, it's the most reliable system a tour could have.'
Playback Control's system incorporates Dual Real Time Redundancy (RTR) technology that eliminates the standard Master-Slave computer system that historically fails to protect shows against undetected glitches or outages. Instead, thanks to Vignola's programming, Playback Control can incorporate two Apple computers to operate independently, but in sync with one another, thereby creating two masters.
Tour Supply's direct and intimate relationship with Apple helps to provide each Playback Control system with this new technology anchored by the most reliable laptops on the market. 'If Computer A completely shuts down in the middle of the show, Computer B will take over instantly, without delay. No one in the audience, or even the band, will have any idea that there was an issue,' Vignola explains. 'The computers are truly running together in real time, which is the first of its kind for a playback system.'
'There is a need for high production quality, and for many acts, that means stretching the boundaries of what some might call acceptable audio practices,' says Jim Rhodes, Artist Relations at Radial Engineering. 'Playback Control makes this possible.'
Since the company's inception, Playback Control has been used by artists including Motley Crue, Aerosmith, Carly Rae Jepsen, Imagine Dragons and Brantley Gilbert. Bands of every size and genre are investing in the new technology, such as Six60, a New Zealand-based band that is currently programming their show with Vignola in the new headquarters.
'We're looking forward to hosting even more bands, performers and engineers in our new headquarters to help build their customized programming that will transform how they put on a show,' Wascom says. 'Playback Control is the one solution that comes with programmed software and reliable hardware, wrapped up in a bow and ready to go.'