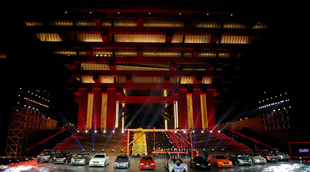 Using the spectacular Chinese Expo fairgrounds as a backdrop, the BMW Group presenting the latest in its ranges to 2.000 invited guests. Lighting, video and audio technology needed to support performances from popular Chinese artists, including singer Liao Changyong, Yu Qiang Dai and Mo Hualun. Who performed in support of the event.
Two event areas provided a diverse programme – a smaller stage was built inside the pavilion, in a room used for film showings, presentations and business events. Here, the installed sound system was supported by K&F Scena 15 stage monitors.
A larger open-air stage located on the south side of the pavilion hosted the main events. On the right and on the left side of the set-up, formations of four Sequenza 10N (for the redistantmote area) and two Sequenza 10W (for the near area) were flown on each side. Over these hangs there were three Sequenza 10B subwoofers, with further bass reinforcement provided by two Nomos XLC cabinets on the ground. All of the speakers were driven by K&F SystemRacks with ready-to-use configuration, and signal processing was from CD44 digital system controllers. The equipment was supplied by the Chinese K&F sales partner, MYC Technology, appointed as HK Audio distributor last year.
The FOH sound during the event was controlled by Shaogang Jin, who had worked the opening and closing ceremonies at the Summer Olympics in 2008. 'For me, it was an absolute surprise how perfect the Kling&Freitag sound system worked under the hard weather conditions, he said. 'Although temperatures were below freezing point and in spite of the violent wind, I could not detect any appreciable prejudice in the middle and high tone range. Most speaker systems would not give such a high quality performance under these circumstances.'
More: www.kling-freitag.com