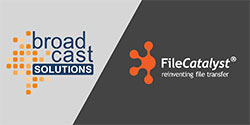 German company Broadcast Products – a division of Broadcast Solutions – has added FileCatalyst to its portfolio following agreement of a new channel distribution partnership for the DACH, CIS, Russia, Southeast Asia and Middle East markets.
Broadcast Products will take care of FileCatalyst's flagship products with sales and support, selling and supporting FileCatalyst's flagship Direct, Workflow and Central products.
FileCatalyst Direct is a suite of server and client applications that accelerates point-to-point file transfers at speeds of up to 10Gbps. FileCatalyst uses a proprietary UDP-based file transfer technology that overcomes the issues of slow file transfers caused by network impairments such as latency and packet loss.
FileCatalyst Workflow is a web portal for all file transfer requirements. It simplifies file exchange and boosts productivity by streamlining submission, distribution, and file sharing workflows on the web. By integrating directly into a corporate infrastructure, FileCatalyst Workflow makes receiving files easy by acting as an online file submission inbox for anyone outside of your network submitting files into organisational workflows. FileCatalyst Workflow also turns file distribution via email into a simple task by enabling users to securely send files to any email address. FileCatalyst Workflow combines three powerful web-based managed file transfer workflows – submission, distribution and online folders.
FileCatalyst Central is a web application used to monitor and manage an organisation's entire FileCatalyst deployment. Central allows administrators to view ongoing transfers in real time, dig into transaction histories, manage or monitor alarms, manage nodes and initiate node-to-server transfers. Administrators may also edit the configuration of all the connected nodes, including FileCatalyst HotFolder (HF) and TransferAgent (TA). Written in HTML5, Central is firewall friendly and integrates seamlessly with all products in the FileCatalyst suite.