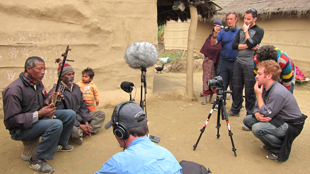 After a final lunch in Sauraha and with an hour to go before departing for the border of India, a handful of the GE-OS recording team piled into a four-wheel drive and raced to a neighbouring Tharu village to make an impromptu recording.
A local musician had offered to perform on an unusual instrument made from a pumpkin with a long stick passing through it to form a neck and a single string made from a length of wire.
GE-OS Project update #06
Day 5, 31 December 2010
Despite being over a metre long, the instrument was held and played in the same hand; the musician gripped it where the neck entered the body and strummed the string by flicking it with his finger. Shaking a cluster of small cymbals with his other hand while singing allowed him to perform as a one-man band, although for the recording he was accompanied by a vocalist allowing a call-and-response performance.
For this recording the team chose a pair of DPA 4023 compact cardioids in an XY configuration (coincident, 90° subtended angle). The recording location was in front of a traditional Tharu house made from sticks and mud, and a dozen or so villagers looked on while having a hard time grasping the concept of 'silence'! The XY configuration provided sufficient focus on the centre image while the 4023's excellent off-axis response ensured that the surrounding atmos was tonally in context with the music and therefore would be perceived as intentional ambience rather than unwanted spill.
With the recording finished the team bid the musicians and villagers farewell and made a swift retreat to their four-wheel drive, crossing the border into India a few hours later and celebrating New Year's Eve with a fireworks display in a border-town parking lot. They spent the first day of 2011 floating down the Ganges on a large boat, en route to Varanasi…
About The GE-OS Project
Founded by Greg Simmons in 2008, The GE-OS Project takes audio students and other interested parties on international recording expeditions to capture the sounds and music of different countries and cultures. The goal is to make the highest quality recordings under the circumstances, with an emphasis on the educational aspects of recording on location.
'GE-OS' is an acronym for 'Guerrilla Ethnomusicology – Open Source', a reflection of the recording philosophies and dissemination methods used by the project. The recordings fall into three broad categories: direct-to-stereo ethnographic recordings of traditional music performed in traditional contexts, multitrack recordings of local musicians improvising over backing tracks, and phonographic recordings of city sounds, village sounds and nature sounds. On completion of the project, all recordings will be placed on line for anyone to access and use under the terms of a Creative Commons licensing scheme.
The GE-OS Project is currently undertaking its third extended recording expedition and gratefully acknowledges the ongoing support of Amber Technology, DPA Microphones and TC Electronic.