A new generation of karaoke clubs has recently taken off in China, as a result of a series of development by one of the country's biggest real estate development companies, Dalian Wanda Group.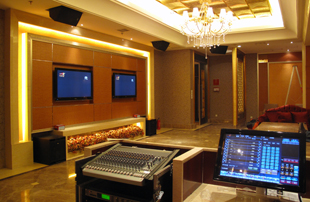 The construction of hotels and other high-profile facilities involves a range of global hotel chains, including Hilton, Sofitel, Intercontinental and Crown Plaza.
With Apex audio processors recommended for use in a Sofitel-managed hotel's private KTV club in 2008, they will again be used for the developer's new project – opening public KTV clubs in the country's Super Star discount retail stores. This has been rolled out in large and medium-sized cities throughout eight Chinese provinces,
Supplied via distributor Budee Technology Development, the Apex Intelli-X48 processors had proved a great success and have been specified for the latest KTV project. For these systems, Wanda Group engineers looked at a range of audio equipment and chose systems which comprise Apex Intelli-X48 processors, plus Outline speakers and Lab.gruppen amplifiers, all supplied by Budee. 'During the evaluation phase, our system was considered the best by Wanda's technical engineers, with the sound of the Intelli-X48 being described as especially good,' says Budee's Amelia Pei.
The first phase of the project was completed in December 2010, but Wanda Group is now planning to build Super Stars KTV clubs in other provinces, which Budee is looking forward to supplying more systems for. These will also feature Apex processors. 'We are very pleased that Wanda Group has been so impressed with Apex processors,' says Apex Marketing Manager Jeroen Sierjacobs. 'Budee has put together an excellent system featuring our processors and it is gratifying that they are such an important part of these KTV installations, by one of China's highest profile development companies.'
More: www.apex-audio.eu