A very unusual multi-media installation was recently completed in the City of London, led by A.Jay Services Ltd with Pro Audio Systems providing the audio infrastructure. The nature of the client's business as major international investment bankers demanded an exceptional level of security and discretion from its chosen suppliers.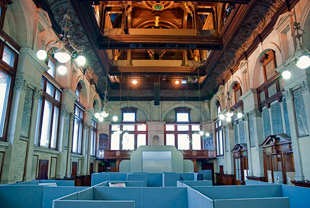 The demanding technical requirement was for a combined A/V system capable of providing visual coverage and audible intelligibility throughout a very large room which the client (whose identity remains undisclosed) uses for presentations, recruitment open days, corporate events and product launches. Due to its location, flexibility and technical infrastructure, it is also used on occasion by other companies as guests of the client.
Designed and commissioned by Giuseppe Mallozzi of A.Jay Services, the entire integrated system is controlled centrally via two Crestron CNMX devices. The main video and audiocomponents are two Barco iDR600 video walls and a compact Meyer Sound system, comprising nine M1D mid-high packs and two M1D subwoofers. Audio control is provided by a Soundcraft Live 8 console driving a Meyer Sound Galileo 616.
An additional challenge to the installation team was the fact that the historic building has listed status and thus no changes could be made to its fabric. Consequently a bespoke trussing system was designed and constructed by Brian Lumb and his specialist construction team at Pro Audio Systems which required no permanent fixings of any kind. It supports the weight of the flown loudspeakers in perfect safety but can be removed leaving no trace if required in future.
A spokesman for the client said 'Our international reputation is based on customer service, professionalism and discretion. We're delighted that we've been able to partner with suppliers who demonstrate those same principles in completing a challenging project to our total satisfaction'
More: www.ajsuk.com
More: www.proaudiosystems.eu
More: www.barco.com
More: www.meyersound.com
More: www.soundcraft.com