An upgrade to the studio facilities at the Leeds College of Music (LCM) has seen two Audient ASP8024 mixing desks, Lynx converters and Drawmer outboard gear supplied by by Funky Junk. The studios are part of the college's Music Production degree, and are used for recording, mixing, production and mastering, and the move represents a step away from digital mixing.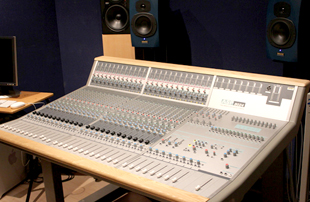 Undergraduates of the college's Music Production programme will benefit from the recent upgrade, as the studio facilities are an integral part of their course. Pop and Jazz students who choose to take recording modules will also have the opportunity to use this new equipment. 'Previously we had digital desks that were getting a bit old, so we traded them in for good analogue desks,' says Senior Studio Technician, Keith Smith. 'The studios didn't have any outboard gear at all before, so we bought a few units so that students can get used to patching and mixing outside of the computer.'
'The ASP8024 console provides the College with a quality analogue platform for use in delivering its undergraduate Music Production programmes,' adds BA (Hons) Music Production Course Leader, Craig Golding. 'The console is intuitive to use, and provides an excellent standard on which to learn and teach analogue desk architecture and studio production skills.'
According to Smith, Funky Junk was the obvious choice of supplier: 'They offer a level of service and support that isn't available from high-volume, low-cost retail outlets, and tends to sell equipment that is well made to a good standard, which is essential for a learning institute. Also, it is interested in making sure customers get the right equipment to fit their needs.'
'We have dealt with a number of Leeds College Of Music alumni and it certainly ranks among the best music technology courses in the country, producing graduates with a vital combination of practical and academic skills,' says Funky Junk owner Mark Thompson. 'The Audient consoles offer students a thorough grounding in operating professional in-line consoles, and in an age where analogue is increasingly alive and well in terms of music recording, Leeds are ideally placed to remain at the forefront of music technology education.
More: www.proaudioeurope.com
More: www.audient.com