Wireless microphone systems and audio processing specialist Lectrosonics has completed a substantial upgrade to its website, bringing new graphical design, improved menu and navigation structure, and enhanced search capabilities.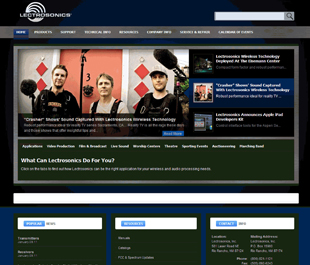 'In our day-to-day conversations with dealers, distributors, and end-users, we receive a wealth of feedback on everything from how we make information available to the types of products and features that are optimised for any given application,' says Karl Winkler, Director of Business Development. 'Our new website is a direct response to that feedback.
'We've listened carefully and have attempted to take the best ideas and organise them in such a way that the information people require is easier to find and more accessible than ever. I genuinely believe our customers and all who visit will find the new site a marked improvement.'
Visitors are greeted with a series or rotating panels that highlight the latest company news and a series of applications and the types of products typically used for each, with links directing viewers to the specific product page. Across the top of the browser window, a series of drop-down navigation links access various sections of the site.
Also notable among the new features is the re-organisation of accessories. Accessory information is now associated with products, including a directory of accessories by product – a more streamlined structure that delivers a comprehensive view of a product and its capabilities.
More: www.lectrosonics.com