Recently completed, MTV Networks Latin America Studio complex in Buenos Aires will house the creative production centre for Viacom's MTV, VH1 and Nickelodeon cable programming.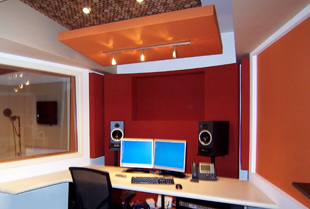 Inside the 40,000-sq-ft complex, the production/postproduction hub was created by the Walters-Storyk Design Group, after being recommended by leading Argentine postproduction manager, Adrian Costoya. The project ran for 18 months and was led by WSDG-LA, founding partner Sergio Molho and company co-principal John Storyk. 'Built within the footprint of a former motion picture production studio, MTV's Latin America Studios represent a significant investment for Viacom, an important source of new jobs for the Buenos Aires creative community, and one of the most ambitious assignments of our 20-plus year relationship with WSDG,' Molho says.
The brief given to WSDG was to design ten identical video postproduction suites to accommodate the full spectrum of MTV's requirements, from design and production of animated promos and opens to audio and video editing of original and acquired material. The complex comprises two television studios, master control room, CMR and main server room and 5.1 audio post suite and iso booth. Central to the studios' operation are Digidesign Pro Tools HD3 DAWs with Focusright preamps and Genelic loudspeaker monitors.
'Sound isolation was a primary concern for the television studios,' Molho says. 'To eliminate sound leakage, the 2,000-sq-ft Studio A and adjacent 600-sq-ft Studio B were built with room-within-room/floating floor construction. This enables them to function simultaneously on separate projects ranging from an MTV Unplugged performance to a Nickelodeon show. Fortunately, our studio design track record, which includes broadcast and critical listening room clients, has fully prepared us for this task.'
Following WSDG's regular operations, Molho called on the firm's entire 50-plus designer/engineering team. Drawings, technical information, lighting, HVAC and the full spectrum of systems integration issues were reviewed and resolved during an on-going virtual collaboration between the South American, US and European offices. Interior design was supervised by company art director/co-principal Silvia Molho.
'We are fortunate to have built a deeply proficient team of experts throughout our international organisation,' John Storyk says. 'Today's sophisticated communications technology enables us to collaborate with a high degree of efficiency. This flexibility was particularly advantageous on the MTV Latin America project, as parent company Viacom Inc. is committed to maintaining full compatibility with the "look and feel" of MTV Network's worldwide.'
More: www.wsdg.com