Located in the fashionable Aoyama district of Tokyo, 'b-monster' combines nightclub dancing with full-scale boxing fitness training in a new form of dynamic exercise. Its 'fitness after dark' concept has arrived in Japan from New York, and the luxury brand first settled in Ginza before the latest opening.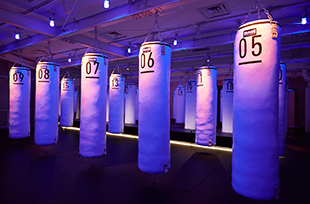 With a desire to build on the energy created at the first club, CDD and CSX loudspeakers from Martin Audio have been supplied by installers, Martin Audio Japan to meet the specification. 'The brief was to deliver high-quality, nightclub style sound without compromise,' says Audiobrains/Martin Audio Japan's Shin Yamada.
Providing even coverage across the entire area are 12 carefully tuned CDD12 and four CSX118 subwoofers, which deliver a dynamic full-range sound for fitness fanatics. In order to control the dynamics Martin Audio's dedicated DX0.5 management system has been adopted – ensuring a clean well-controlled signal to the Powersoft amplifiers.
Yamada confirms that positive feedback had been instantaneous: 'As soon as the gym opened customers started commenting,' he says. 'The sound quality is way ahead of any other gym.'
'Before deciding which speaker was best for b-monster I tested several manufacturers' products,' says Mr Dobashi, Director of Enter Sandman Ltd., who designed the sound system. 'My priorities were to establish which would produce the most consistent acoustic sound over a long period without causing fatigue, and secondly to create a real club sound environment with a thick low bass beat.
'I found that the performance of CDD was acoustically extremely natural – not only its coaxial qualities but the fact that it is a well-tuned box. I found I didn't need to make electronic adjustments compared with other competitive brands and could maintain a high dynamic range without losing acoustic power.'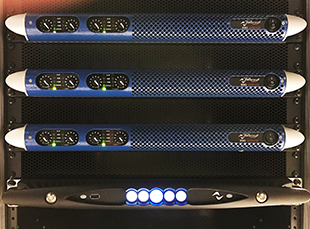 The speaker system entirely is Powersoft driven – three M50Q HDSP+ETH amplifiers serve 12 of the full-range enclosures, while a single Powersoft X4 DSP+D feeds the four CSX118 subs. 'This injects both high-fidelity and enormous output energy into the system,' says Shin Yamada.
'The fact that all the Powersoft products are designed for 1U rack space means that in total we require no more than a 4U rack to drive 16 speakers – creating an exciting full range sound without power loss. On top of that, DSP versions of all the Powersoft units have been chosen, which means the sound engineer can control and monitor the system through Armonía software. This means the amps can drive the speakers safely and the sound can be fully optimised. In fact, the sound quality is way superior to any other gym, and b-monster has been receiving great feedback already.'
The sound system is controlled by Powersoft Armonía – which is further assurance to Mr Dobashi: 'Considering that b-monster has 24 hours operation it is a huge advantage to be able to set accurate limiter functions for safety. In fact after installation I decided to apply some sound adjustments and Armonía helped me to complete the set up really quickly within a limited time. The ability to prepare and lock in several presets, and switch between them on a case by case basis, has an amazing effect on the entire sound environment.'
As Program Director of b-monster, Mr Hiro, has his own take on the installation: 'The experience is just like being in a nightclub surrounded by great SPL and low frequency. The instructors' voice is delivered clearly, and without feedback over the headset mics, which is not always the case,' he says. 'This is not only a bonus for those working out, but also instructors are excited by this great sound experience.'
'We are delighted that such an innovative training gym as b-monster has adopted CDD,' concludes Shin Yamada. 'This truly supports the Martin Audio message of uniting the audience.'