Among the action on the Namm show floor, JoeCo offered a preview of its new Dante enabled BlackBox Recorder.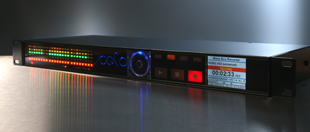 This latest version of the 24-track live recorder follows an earlier announcement of the collaboration between JoeCo and Dante developer Audinate, which could see Dante technology incorporated, under licence, into a range of BlackBox Recorder products.
The move comes as JoeCo extends its customer base from the live performance market into broadcast, film and TV, as well as other areas of audio acquisition. 'With BBR products increasingly used in a range of market sectors, it has become important for us to implement a protocol that enables fast, reliable and integrated transfer of large amounts of audio data in a straightforward and cost-effective way using standard networks,' says JoeCo's Joe Bull. 'Dante has already proved a highly effective networking technology and we look forward to offering audio professionals even greater choice in selecting a BlackBox Recorder version that will meet their particular needs.'
JoeCo also revelaed that its BlackBox PLayer is now shipping. Able to replay 24 channels of high-quality audio at up to 24-bit/96kHz, the BlackBox Player is the first dedicated multi-channel playback device specifically developed to replay backing tracks or multiple surround stems for live shows. It can be triggered using timecode, with a footswitch or QWERTY keyboard, or controlled via Midi commands, giving the live engineer, installation sound designer, musical director or artist full control of the show at all times.