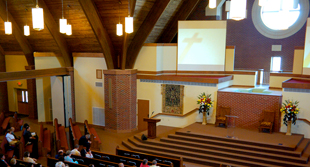 New on the US worship horizon, the Hartselle Church of Christ celebrates inspirational architecture as well as its religious mission. But its high ceilings and ornate brickwork brought familiar acoustic problems to its sound installation contractor.
'As a traditional Church of Christ, their service is very much centreed around the spoken word. And while those brick walls look great, they can create problems with intelligibility, making it difficult to clearly discern what's being said,' says Christopher Bragg, Senior Systems Engineer Messenger Media Systems. 'It's a very wide room, and very reflective.'
The reverberant character of the space demanded a loudspeaker system that offered powerful beamwidth control – Renkus-Heinz's Iconyx digitally steerable array system, for example. 'When I walked in the room, I knew immediately that Iconyx was the only option,' says Bragg.
As a result, a pair of Iconyx IC16/8-R loudspeakers are installed into custom soffits on either side of the proscenium. 'Aesthetics were also of the utmost importance,' says Bragg. 'They did not want to see the speakers. We worked with the architect, and had them leave an opening in the brickwork on either side of the proscenium. The Iconyx fit in perfectly, and we put a bit of standard molding around it. It looks terrific.'
A pair of CFX81 compact 8-inch two-way loudspeakers, mounted behind a small façade, provide side fill, and two Sygma-Series SGX41 4-inch two-way boxes are installed at the rear wall for the sound booth.
'We've received lots of compliments on the sound quality,' Bragg reports. 'The sound is clear, natural and articulate to every seat in the house.'
More: www.renkus-heinz.com