Following its
purchase of an APG Uniline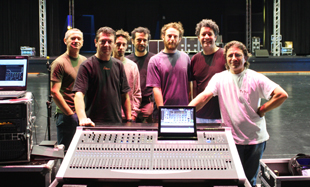 line array and DMS26 digital loudspeaker processor late last year, French rental company TH Audio invested in an Innovason Eclipse digital mixing console late in 2010.
'The Eclipse has been out virtually non-stop since the summer on a massive variety of events from major outdoor festivals with tens of thousands of people to traditional indoor concerts and corporate events,' reports TH Audio owner, Thierry Avignon. 'It has been a dream to use and has perfomed impeccably every time.
'Nothing has been left to chance on this desk – it's easy to program, and people find their marks very easily because absolutely everything is assignable,' he continues. 'In other words, you can set up the console so that everything is exactly where you want it, and all in a very compact, lightweight package. Another strong point is the onboard 64-track Mars recorder for live recording and virtual soundchecking – it's a big timesaver.'
The current operational configuration uses 64 inputs and 24 outputs, of which 56 ins and eight outs are through an Innovason DioCore stagebox. 'The cards are interchangeable which means you can swap out I/O cards as necessary depending on the application,' says Avignon. 'The preamps are very high quality and natural-sounding, and the effects in the compressor/limiter section are superb.
'All of the sound engineers who have used the board so far have been very impressed, including those who'd never mixed on an Eclipse before. They were up and running and comfortable using the board in no time. Finally, I'd like to make special mention of the technical support we've received from Innovason, which has been exceptional. They genuinely listen to their users, and have been a pleasure to deal with.'
More: www.innovason.com