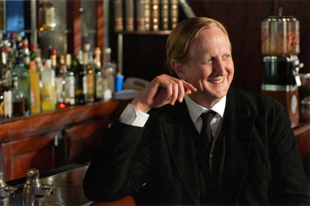 Marking its 10th Anniversary with a Grammy Week event titled 'Shaken Rattled & Rolled', the Producers & Engineers Wing of The Recording Academy will honour producer T Bone Burnett 'for his commitment to excellence and ongoing support for the art and craft of recorded music'.
The event will take place on 9 February at The Village Recording Studios in Los Angeles ,and be co-hosted by Elton John and Leon Russell. 'When the Producers & Engineers Wing was established, an essential voice was created for music makers: the voice of those "behind the glass" that work so diligently to ensure that the quality and integrity of recorded music is captured and preserved,' said Neil Portnow, President/CEO of The Recording Academy. 'As we celebrate this milestone anniversary, it is only fitting that we pay tribute to one of our industry's finest, T Bone Burnett, whose visionary talent and masterful skills have greatly impacted the landscape of audio production.'
Ten-time Grammy winner and current three-time nominee Burnett has a body of work that spans 40 years. It includes producer credits for artists such as Elvis Costello, Jakob Dylan, Elton John & Leon Russell, Robert Plant & Alison Krauss, kd lang, John Mellencamp, Willie Nelson, Ralph Stanley and Cassandra Wilson. Burnett has also produced the soundtracks for film projects including O Brother, Where Art Thou?; The Big Lebowski; and Walk The Line.
Grammy Week culminates with the 53rd Annual Grammy Awards on 13 February, airing live on the CBS Television Network.
More: www.producersandengineers.com
More: www.tboneburnett.com