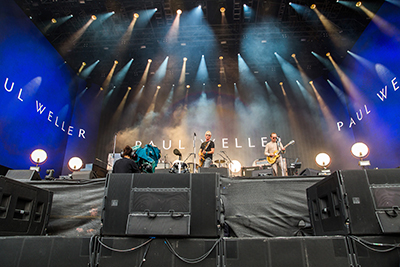 Prior to 2013, Hyde Park concerts had been dogged by noise complaints that pressured the site to reduce sound levels. A Blur headline gig in 2012 ended in uproar from the audience and media criticising the sound quality. When AEG took over the site in 2013 they made improvements with the help of Capital Sound and MLA – but mainstream media continued to believe Hyde Park struggled with sound.
Taking on the ten-day Barclaycard presents British Summer Time Hyde Park festival for a third consecutive year, Capital Sound's Martin Audio MLA PA system was ready to meet both on- and offsite requirements – with Blur returning with a blistering headline set. Along with other headliners – The Strokes, The Who, Kylie Minogue and Taylor Swift – both the music and general press, reported 'loud and clear' sound levels.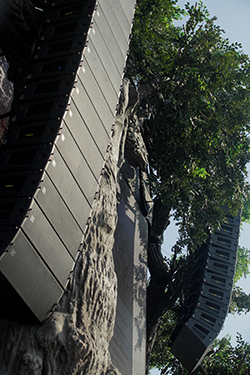 With the site layout now established in order to minimise noise spill, Capital Sound used a similar set-up to 2014, with minor tweaks to the delay towers and a raising the main side hangs to 12.5m from the stage. For the main stage, the PA inventory comprised two hangs of 16 MLA and an MLD Downfill per side, with 12 MLA and an MLD Downfill for the side hangs. The sub array consisted of 21 MLX in a broadside cardioid array, with a further 11 enclosures facing rearwards. Additional W8LM Line Array enclosures provided front fills, while an array of LE1500 floor monitors were also provided for artist monitoring.
'Although the decision to raise the trim height was made late in the day, one advantage was that [Martin Audio application engineers] Andy Davies and Chris Pyne could look at predictions and optimise this in the software, without needing to make any physical changes,' says Capital's Martin Connolly, project manager for the main stage.
The area behind the FOH tower and barrier positions had been changed to improve sightlines, necessitating changes to the delay design. This was extended to four lines of in non-concentric arcs (occupying nine positions). The main nine delays comprised seven MLA and a single MLD Downfill, supported by 12 MLX subs – while Delays 10 & 11 each used eight MLA Compacts.
Martin Audio systems were also provided for two other stages. On the Barclaycard Stage, eight MLA Compacts were flown on each side with 16 WS218X subs in a broadside cardioid array, with four W8LC providing front fill sound reinforcement. The only indoor stage was the 200-capacity Sony Unlimited Tent, which was serviced by Martin Audio's package of four pole-mounted MLA Mini enclosures per side, atop an MSX power plant for low end.
Connecting Hyde Park
Connectivity to Martin Audio's VU-Net/Ethernet control network, running the dedicated Merlin matrix processor, was via an Ethernet tunnel over Optocore –prompting Capital to increase its inventory of Optocore XR6-FX converters to cover this and the coming BBC Proms in the Park event.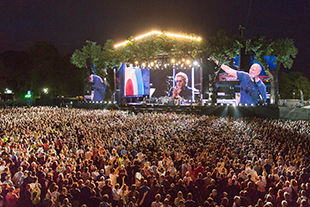 The site-wide topology at Hyde Park comprised 14 Optocore XR6-FX interfaces in a redundant loop, starting from the Avid Profile digital desks at front of house, flip-flopping with a DiGiCo SD11. The signal was fed analogue in and out of a Meyer Galileo loudspeaker management system, with conversion to AES in the Optocore environment.
'Optocore is now a proven science for us, we get different power at every position and one of the many advantages of fibre is it removes the possibility of earth loop as glass isn't an electrical conductor; therefore hums and buzzes on delays are now a thing of the past,' says Senior Project Manager, Martin Connolly.
Martin Audio's VU-Net proprietary software operated in tandem with Merlin matrix processors – all controlled from the rack PCs and laptop on the Ethernet network. 'The new version (v1.2.5) of VU-Net lets you monitor every amplifier channel and allows you to send more data over the network. I can see every channel in real time and it's really accurate,' says System Engineer Toby Donovan.
The Master Overview function provides a customisable screen giving level and limiting information for every cabinet in every array alongside quick access to key functions (unlike previous versions). In Hyde Park this feature was running with over 150 connected devices spread over the Ethernet network.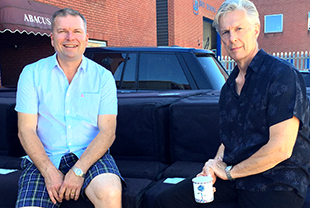 'After three years, we have evolved a successful formula to optimise the audience experience [at Barclaycard presents British Summer Time Hyde Park],' says Paul Timmins of Capital Sound. 'Thanks to the functionality of MLA, historic problems with noise escape are now a thing of the past, and FOH engineers can focus upon and enjoy mixing in perfect clarity while their artists entertain every one of the 65,000 crowd.'
Vanguardia principal consultant, Olly Creedy confirms that complaints on site are at their lowest ever levels. He reports that, 'The sound has been consistently over 100dB for the headline acts and [for The Who headline show] there was 30dB of attenuation in view of the wind, which we've never seen before at Hyde Park. This would enable sound levels of up to 105dB to be achieved at the desk while still restricting to 75dB offsite limits.'
And promoter Jim King, Senior Vice President, Live Events, at AEG added his own endorsement: 'We are pleased that even in challenging wind conditions we were still able to operate at levels unimaginable three years ago. To achieve this and reduce local resident complaints for the third year running is a huge success for the event. The work undertaken by Capital and Martin Audio has strengthened Hyde Park's position as the best outdoor venue in the world.'
More:
www.capital-sound.co.uk