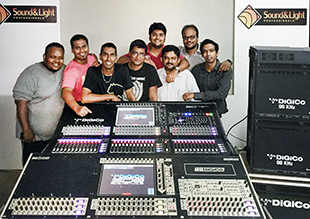 One of the largest growing and most respected sound reinforcement companies in India, Sound & Light Professionals (SNL Pro) Mumbai provides sound, lighting, video and staging, and technical services across India and the rest of the world. The company has recently invested in a DiGiCo mixing system via local distributor, Hi-Tech Audio Systems.
Founded in 1999, SNL Pro has supplied audio to some of the best-known Indian and international artists, including the NH7, Sun Burn, Super Sonic, David Guetta, Norah Jones, Snoop Dog (India tour), Enrique Iglesias (India tour) and Swedish House Mafia. In response to the growth and diversity of the events undertaken by the company, SNL Pro took delivery of a DiGiCo SD10 console and two D2-Rack, adding to its existing DiGiCo SD8.
'We work across a variety of disciplines including concert touring, festivals, corporate events, musical productions and educational seminars,' confirms Sound & Light Professionals Director, Manish Mavani. 'With its high fader count and high input and output bus counts, the SD10 is the right addition for our rental stock.'
The SD10 has 96 processing channels (12 of which are Flexi Channels, configurable as either mono or stereo) at 48kHz/96kHz, which is the equivalent of 108 channels of full DSP processing. The console also has 16 Dynamic EQ processors, all of which can be assigned to any input or output channel. These offer dynamic processing on each of the four standard parametric bands, along with 16 assignable multiband compressors and 16 assignable DiGiTubes. The D2-Rack delivered with SNL Pro's system has 48 mic/line inputs and 32 outputs, all working at 96kHz and 24 bits. Connection to the D2-Rack is via BNC Madi.
'The main thing about the SD10 is its versatility,' says Hi-Tech Audio Systems MD, Rajan Gupta. 'The SD10 and D2-Rack combination provides the very important solution of splitting input channels and having independent head amp gain control for FOH and monitor applications, without using an analogue split snake system.
'We are pleased to serve SNL Pro with this amazing console from DiGiCo and are confident that we will see many more such associations happening in the near future.'