Bright Norway and Sonalyst are the first purchasers of the Leopard linear sound reinforcement system, the 'smallest and most versatile' members of Meyer Sound's flagship Leo family.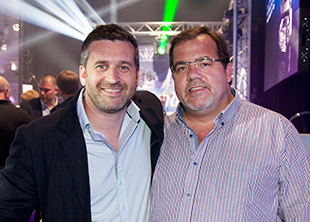 Bright Norway says the new Leopard and 900-LFC will help simplify its rental operations: 'In a perfect world, audio companies would love to rely on one single model to bring consistency to all its projects, but that's not possible,' says Asle Nilsen, head of audio at Bright Norway. 'Now with Leopard adding to our arsenal of Lyon and Leo systems, we have a much more streamlined inventory to bring highly accurate audio reproduction to every project that comes our way.'
For Sonalyst, UK's leading production supplier for comedy and theatre shows, Leopard's power-to-size ratio and the company's experience with the Leo products made its purchase simple: 'Just when we thought that quality in audio production had reached its peak, Meyer Sound released a product representing a giant step forward for the industry,' says Rory Madden, owner of Sonalyst. 'We were astonished when we first heard Leo and Lyom and we couldn't be happier to become the first company to bring Leopard to the UK.'
The Leopard loudspeaker and 900-LFC element are designed for use in a wide variety of applications from rental and install and to classical music. An array of six Leopard loudspeakers and two 900-LFC elements can be flown using only a half-ton motor. Each loudspeaker is optimised for an array of six cabinets or longer, with default low-mid array compensation for utmost simplicity out of the box. It also features a new class-D amplifier that consumes less power and generates less heat.
Sonalyst has purchased 48 Leopard loudspeakers, 24 900-LFC elements, 12 MJF-210 stage monitors, two Galileo Callisto 616 array processors, and two RMServers. Bright Norway's order includes 96 Leopard loudspeakers, 24 900-LFC elements, and four Callisto 616 processors, in addition to 12 Lyon linear line array loudspeakers and 18 1100-LFC low-frequency control elements.