When Blitz GES hit Madi compatibility issues, the company's Head of Sound & Theatre Chris Jordan contacted Craig Lovell of Bel Digital for help. His solution was Madi-Mon audio/status monitor, which enables auditioning of Madi channels without the need to connect to external routers or audio consoles.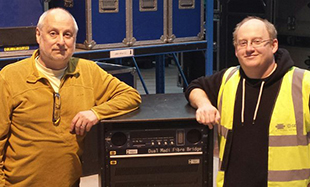 One of the UK's leading technical production companies Blitz GES is also in-house technical event partner at London's ExCel and Olympia, the Birmingham NEC and Manchester Central convention complex.
'We demonstrated Bel Madi monitor to Chris by conducting a test with several Madi devices and it immediately flagged up a variety of issues,' Lovell says. 'We contrasted the difference between what was coming out of the optical feed with what was coming from the coaxial feed. They immediately saw the benefit of the unit because they could see what the Madi flags were. It was the ideal diagnostic tool for their particular issues.'
Fully compatible with 96kHz, 88.2kHz, 48kHz and 44.1kHz sample rates, the monitor is also compatible with both the legacy SMUX and High Speed Madi protocols. Within a week of the demonstration, Blitz GES had placed an order – the first specifically for live sound applications.
'We use a fair amount of Madi and the Bel Madi monitor is an extremely useful diagnostic tool,' says Jordan. 'For the first time, we now have a troubleshooting option which can operate across all of our Madi systems. When we have issues, we can interrogate the Madi stream to see where they are and sort them out far more quickly than was possible before.'
More: www.beldigital.com