With a 16-year track run reaching more than 1m viewers in 12 countries, Roman Polanski's theatre production of Bal de Vampires is currently playing in Paris at the Mogador Theatre. Sound design for the rock-based musical production is the work of Tom Strebel and the team from Basel-based audiopool.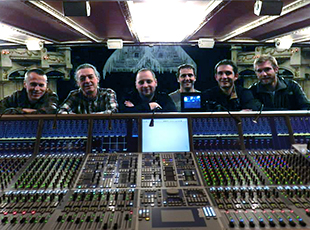 For Strebel, the focus had to be on the intelligibility of speech as, in his words, the production is 'a very dynamic show, with a big rather than a very loud sound and as such, we needed plenty of low end and headroom to get the energy we wanted. Bal de Vampires is very cleverly written with good songs and orchestrations, and very dense arrangements that nevertheless allow enough room to put in the vocals. Clarity was a priority, and a lot of work was done by the creative team on diction.'
Strebel specified a TiMax SoundHub audio delay matrix with the TiMax Tracker automation system for intelligibility on vast stages and on complex productions such as this one. 'Our justification for TiMax SoundHub was to help bring out the clarity of speech, to aid intelligibility,' he explains. 'Using TiMax Tracker control to make the sound automatically follow the actors around the wide stage.'
The stage zones were mapped onto a dedicated vocal system comprising d&b T10 line arrays flown in a splayed LCR configuration, with Q10 down fill and E6 front fill. A separate main LR music system comprised a hang of 15 T10 cabinets aside with J-Subs – all amplified by d&b D6 and D12s. For delay and surround system the permanent house installation was made up of principally of L-Acoustic 8XT boxes driven by LA4 amplifiers and Meyer Sound UP Juniors, with d&b Q7s for stage monitoring and E8s for stage FX.
At the Paris theatre, Strebel worked alongside associate sound designer Laurenz Zschokke, and the Mogador's resident head of sound, Bertrand Billon as production engineer. Strebel has a long association with Out Board and the TiMax range of products and Out Board's Robin Whittaker provided TiMax Tracker setup and to assist programming of the Haas precedence-based image-definitions in the SoundHub delay-matrix.
The detailed perspective creator and director Polanski brought to the production impressed Strebel: 'He is incredibly knowledgeable and knows exactly what he wants to achieve,' Strebel says. 'This is a visually stunning show, and works beautifully in this theatre. But it also has considerable depth, and the combination is extraordinary. We had a great team spirit on Bal de Vampirs, which made getting to grips with what is a very complicated show both enjoyable and exciting. The more advanced and sophisticated the requirement, always the less time you have to do everything. We all worked hard together and are pleased at the end result.'