Following the major renovation of a well-known clubbing site on the Strada Republicii, in the Romanian city of Cluj-Napoca has a new night spot. Club NOA (Nest of Angels) leads with panache and follows with an extensive Martin Audio sound system.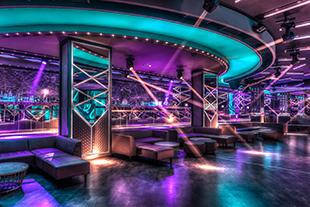 Costing €500,000 and boasting 65kW of sound, the advanced sound and lighting systems were specified by Romanian specialist Simo Sound SRL (Disco Zone), with support from Martin Audio's Product Support Group. Eighteen Martin Audio W8VDQ enclosures serve the main room, using line array and differential dispersion technologies to provide coverage over wide angles and throw distances in for a venue, and delivering everything from electronic to live music.
Owners, Kàlmàn Jozsef, Horvàth Julieta and Kàlmàn Ladislau had seen Martin Audio systems at work on a trip to the company's UK HQ and at the Ministry of Sound in London, they described Martin Audio as 'the Aston Martin of sound'.
The distributed set-up is designed to take account of the venue's unusual layout. In addition to the W8VDQ boxes, Simo Sound supplied ten WS218X floor -standing subwoofers and four ASX subs mounted under the stage. Two XD15s serve as DJ reference monitors with a pair of XD12s for fill, while the rest rooms and VIP areas are populated with eight C8.1T full-range ceiling speakers.
Various Martin Audio amplifiers are assigned to driving the system, including five each of Martin Audio's MA5.2K and MA9.5K, along with MA3.0 and MA4.8Q amplifiers, all under the control of a dedicated Merlin network management system.
Although the 1,500-capacity club only has a single room, it has five floating cells placed above the main dancefloor so that the stage can be seen from every point in the venue.
The club design was masterminded by Gosho Studio in collaboration with 49Studio, two architectural and interior design firms based in Cluj-Napoca. 'The main idea was to use old luxury trends, that were common in art-deco style, so that we could obtain a retro-modern look that has a fine elegant touch,' explained Gosho Stefanov: 'The biggest challenge for the designers, was to avoid the idea of a glam look and feel. They used straightforward clear shapes to reinterpret the art deco style, natural stone for the bar and table surface and reflective and glass surfaces that work well with the whole smart lighting setup. Also the club designers used materials that have a natural look so the general feel is cosmopolitan.'
The venue is proving popular with the local clientele – and the operators themselves.