Since opening in 1887, circuses, vaudeville acts, one-man shows, revues, plays, operas, operettas and musicals have all graced the stage of Amsterdam's Koninklijk Theater Carré. The venue continues this tradition and recently upgraded its audio system, with a Yamaha CL digital mixing system central to its present-day operation.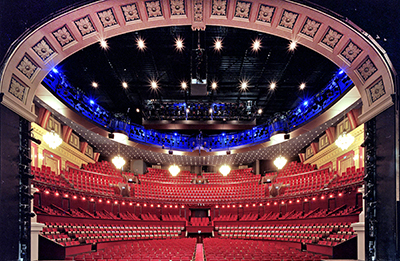 With many productions running in the theatre for longer periods than before, the management wanted the flexibility to host smaller morning or afternoon productions on the front of the stage. This would allow two or more events to be run on each day – the main part of the stage containing the set for the evening's production being unused during the day.
'Koninklijk Theater Carré is one of Amsterdam's most famous theatres and it is in great demand,' says Ron Zevenhoven, project consultant from the system's installer, Iso-Audio. 'By being able to host simple productions (one-person shows, company presentations, receptions and compact music performances) during the day, without having to take down the set for the evening's show, the theatre can be made available for many more events.'
Supplied by Audiopro Netherlands, key to the plan was a pair of star configuration Dante networks, which host a Yamaha CL3 digital console and a pair of Rio3224-D I/O units. The flown PA can be moved and rotated, depending on if the full stage, just the front or the front wings are being used. The speaker positioning system sends a signal to the DSP driving the PA, from which the DSP selects the correct speaker alignment presets.
'We chose two independent Dante networks to separate the input side of the system from the output side. The technicians only see the part of the network they need to be working with, which makes it very straightforward to use,' Zevenhoven says.
In addition to the CL3 and Rio units, the input side features a Shure ULX-D digital wireless system and an Auvitran Madi converter, in case a Madi broadcast feed is required. The Rio3224-D AES/EBU outputs feed a DSP to drive the output side Dante network, with the PA amplifiers fed through a Dante-AES/EBU convertor. An Apple Mac Mini is also installed for multitrack recording, via Dante Virtual Soundcard.
There are also several Dante-to-analogue feeds to drive systems for the hearing impaired, dressing room amplifiers, the studio and DVD recording. Meanwhile, if a production comes in with a different console, analogue and AES/EBU inputs are available at several different points in the auditorium. These are directly fed into the Dante network using the inputs of a Dolby Lake LM44 system processor.
'We chose the Yamaha CL system because we have always had positive experiences with the reliability and acceptance of Yamaha systems by mixing engineers,' Zevenhoven reflects. 'The Dante infrastructure has made for a very flexible and versatile system and Yamaha's StageMix app has been a really handy feature. It is used by engineers all the time.'