Slovak TV has adopted the full suite of Nugen Audio loudness tools, including the VisLM-H visual loudness meter, ISL inter-sample true-peak limiter, LM-Correct stand-alone loudness tool, and LMB batch-processing loudness correction tool. Part of Radio & Television of Slovakia (RTVS), Slovakia's leading public television network, Slovak TV is now able to comply with the its government's new loudness regulations.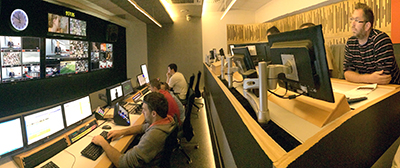 'Loudness regulation is sweeping Europe, and Slovakia is among the many countries that are adopting measures based on the European EBU-R128 standard,' says Nugen Audio founder and Dreative Director, Jon Schorah.

'Slovak TV is leading the charge to help provide a more enjoyable audio experience for its television viewers. Our partner, G-tec [a Nugen Audio reseller based in Bratislava], has worked hard to ensure that all Slovak broadcasters have the tools they need to meet upcoming loudness standards and position Nugen Audio products as critical solutions.'
G-tec recommended the Nugen Audio tools as part of a broader project designed to modify Slovak TV's operation for loudness monitoring, correction, and compliance. The Loudness Toolkit, consisting of the VisLM-H, ISL and LM-Correct plug-ins for Pro Tools, enables Slovak TV's audio engineers to produce loudness-normalised audio according to EBU-R128. In addition, LMB provides offline loudness and true-peak analysis and correction of audio files to meet the standard.
'At G-tec we are committed to helping our broadcast clients prepare for the coming loudness regulation and understand how advanced loudness management tools can fit into their existing workflows,' says G-tec Professional Product Manager, Boris Seitler. 'Nugen Audio's tools are an integral part of that effort. Their ease of use, highly intuitive operation, and seamless integration into audio production workflows make them an ideal match to Slovak TV's requirements.'
More: www.nugenaudio.com