Turkey 's Prince of Pop, Tarkan routinely sells out shows at all of the country's major venues – recently, he played nine consecutive shows at the 4,000-capacity Cemil Topuzlu Open Air Theatre. At monitors was a DiGiCo SD5 purchased to meet the events' demands by production company Staras.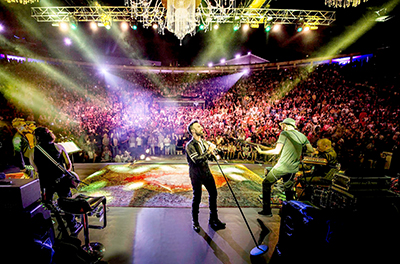 The open-air amphitheatre is one of Istanbul's most popular venues, especially in summer, when it hosts a variety of live shows by both national and international artists, as well as a number of cultural festivals. For this series of concerts, Staras Technical Production handled the lighting, sound and staging, and happily met the request by Tarkan's production team for a DiGiCo SD5 console for the monitor mix.
'Although Staras has been in business for 30 years, they had not previously used DiGiCo consoles,' says Gorkem Celikbilek, from Turkish distributor Asimetrik. 'Tarkan's engineers specifically requested the SD5 for these shows and Staras were happy to invest in one from us.
'Not only did the SD5 help to ensure that the audience enjoyed a fantastic sound at all nine Tarkan shows, but Staras' other clients can now also enjoy all the benefits of the SD5, with it now in the rental stock. Investing in the SD5 has truly helped Staras to take its productions to the next level.'
More: www.staras.com.tr
More: www.asimetrik.com.tr
More: www.digico.org