Opened in 1924, the Historic Cocoa Village Playhouse (CVP) serves Florida's theatre and educational communities in the performing arts. With 17 years' sound engineering experience, Lead Audio/Sound Designer Gavin Little knew the venue needed a new sound set-up. Having relied on a Soundcraft MH3 mixing console for many years, the CVP now has a full digital infrastructure. featuring a Soundcraft Vi3000.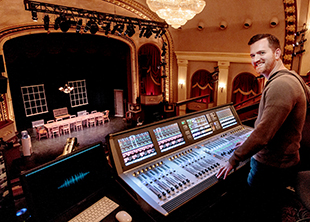 'Moving over to the Vi3000 from the MH3 was a huge leap in terms of functionality,' Little says. 'I wanted to store all the shows and have huge matrix capabilities with delays built into the console. This console does all that and is easy to use.
offers. 'For example, the Vistonics screen and the FaderGlow are straightforward features that allow me to focus on my job and the show while mixing. I think this is the way of the future, as I was confident to be able to do a show right out of the box.
'The sound was completely transparent from the moment I turned it on,' he adds. 'The console provides true representation of sound, as you could hear the EQ working really well, with the sound being very clean. I'm excited to use this console for our next big show a month from now, which is West Side Story.'
The CVP seats 600 people and currently hosts five shows each week, as well as a number of big musicals every year. The productions feature large-scale orchestras and a cast that regularly uses 20 wireless microphones simultaneously. To accommodate the channel load, Little also acquired a Soundcraft 32x8 Stagebox for the orchestra pit, and a Soundcraft 32x16 Stagebox for the stage.
'This digital console is laid out so well and so intuitively, that it functions like an analogue console,' he