Over the summer of 2014, several promoters hired Traction Sound PA rigs for events at Audio in Brighton. With the nightclub's tenth anniversary celebrations coming up, a new sound system was top of the agenda.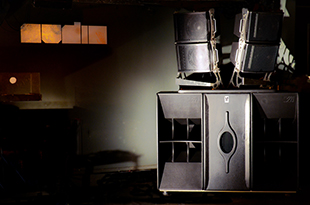 Before it was Audio, the venue was called The Escape and ruled Brighton's nightlife for 20 years. Its basement saw names such as The Stone Roses, Carl Cox, Fatboy Slim and Daft Punk grace its stage and decks. Owner John Holland realised that after 20 years things needed to change and so the venue underwent a major refit and name change, and Audio was born. Discussions began between Holland, club manager Robbie Whishaw and Traction with a view to installing new systems on both floors.
Once the install was agreed, Traction engaged local install and hire company Brighton Sound System to co-ordinate the refit. In the ground floor bar Above Audio, Traction were asked to fit a system that could balance background music for the day time trade, with punch and higher SPLs for evening sessions where DJs and live performance remain at the core of the bar's use. Removing the existing eight mid top speakers and two subs, just four Traction SDS8i Gobi mid top/boxes and two BP12 Cub subs were ample to cover the entire bar while focusing higher volumes on the centre of the room for the crowd. Amplification comes from the existing QSC PLX3002s.
In the main club area downstairs, the challenge was to install a system that would keep a discerning club crowd and top name DJs happy while meeting the installation challenges presented a highly populated urban location on Brighton seafront. Traction opted for two BPS218 Hades infrasubs, four BH218 Zeus band-pass horn-loaded subs, topped of with eight SDS12i Kodiak mid tops. Using the company's SDS Horn technology, the Kodiaks offer comfortable listening at higher volumes for extended periods.
With the installation completed and the system put to the test, dance music magazine DJ Mag yesterday announced the results of it's Best of Britain Awards, with first place in Best Small Club category going to Audio, beating venues such as Stealth in Nottingham and Corsica Studios in London to the prize.
'Installing at Audio is a dream come true for me,' says Traction Sound Business Development Director, Jonny Goodwillie. 'When we first started Traction, it was my main target to get an install there. When I moved to Brighton in 1989 I would go clubbing in the building which was then called The Escape, and when John refitted and renamed in 2004, I was part of the promotions team and spent three happy years running club nights and DJing there. John and his team understood exactly what a venue needs to be a perfect club, and after 30 successful years it shows they got it right. To be chosen as the venue's speaker supplier means the world to us and shows that Traction is a brand right for nightclubs.'
Traction Sound worked closely with Brighton Sound System to ensure their speakers were used to their maximum potential and the tenth anniversary weekend featured Âme on the Friday night and Simian Mobile Disco on the Saturday night.
In late 2014 the club changed hands when London-based Mothership took the reins from John Holland and ushered in a new chapter in this art deco themed venue. Traction is eagerly anticipating a new era and working hand-in-hand with the new owners.
More: www.brightonsoundsystem.co.uk
More: www.tractionsound.com