An ongoing commitment to supporting new talent and a long relationship with the Faculty of Music at the University of Oxford recently saw Sennheiser UK usupporting a new competition for original music composition.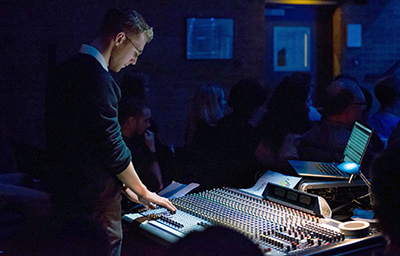 Providing K-array audio system for the performances and prizes for the winners, the event builds on Sennheiser's work with the university over the Oxford Surround Composition & Research studio (OSCaR), a bespoke electronic music studio, which opened in 2014. This year, the company sponsored the Oxford/Sennheiser Electronic Music Prize (OSEMP), a competition set up by the university to highlight the increasing importance of electronic music in its teaching and research programmes. Also supported by Warp Records, the aim of the national competition was to find the most innovative new works in electronic music by composers aged 35 or under.
'Ever since the introduction of widely-available recording devices, composers have been manipulating sound to push the boundaries of music,' says Daniel Hulme, Electronic Music Studio Manager at the Faculty of Music. 'As computers became the main workhorse in the studio, a whole new world of possibilities has opened up for sonic exploration and invention. The idea of OSEMP is to encourage composers to be as innovative and communicative as possible and to give a platform to those who may not otherwise be heard.'
The competition final featured ten finalists – chosen from more than 100 entrants – performing their compositions in front of a live audience and a distinguished panel of judges, comprising noted Electroacoustic composers Natasha Barrett and Trevor Wishart, and the Music Faculty's own professor of composition, Martyn Harry.
The pieces ranged from stereo to eight-channel surround sound in their delivery, requirig an eight-position K-array loudspeaker system based on KR202 speakers at the corners and KR102s at the cross position. The lightweight, self-powered K-array units meant that the performers could be situated in the centre of the room, with the audience around them but fully within the sound field.
After all ten had performed, the panel chose Samuel Barnes and his composition The Nature in Devices as the winner, with Sam Kendall's One Fast Move or I'm Gone and Daniel Cioccoloni's Deep Time in second and third places respectively. Sennheiser provided prizes for all three, including headphones and microphones.
'It was a fantastic opportunity for us to team up with a company with the international reputation of Sennheiser to support our activities in sound recording and studio composition,' says Eric Clarke, Heather Professor of Music at the Faculty of Music. 'We've already benefitted hugely from both the expertise of the people who work for this renowned company and from their outstanding audio equipment. We hope to continue to develop the relationship long into the future.
'OSEMP attracted a huge field of entries, ten outstanding finalists and three extremely talented winners. In many ways, though, it was the audience in the packed Jacqueline du Pré music building who were the real winners. They were fortunate to be present at a memorable evening of terrific music. We're already looking forward to next year.'