The annual Skjærgårdsgospel worship conference brings a weekend festival of music, meetings and spiritual togetherness to the Norwegian port of Langesund. And for the past three years, Alcons equipment has helped to overcome the event's difficult acoustics.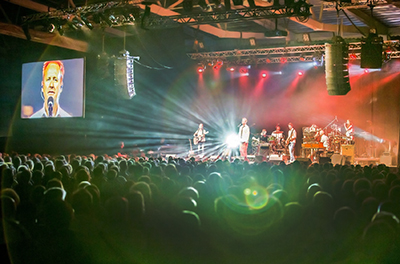 Staged in the Skjærgårdshallen, a multi-purpose arena and conference facility on the waterfront, the PA system has to accommodate highly reflective side and rear walls of the hall. 'It's made worse by the fact that the Skjærgårdsgospel stage is located on one of the long sides,' says Eivind Fossnes Dahl, General Manager and sound engineer at Audiopol Live, the company tasked with the event's sound production.
Founded in 2007, Audiopol Live is a sister business to recording facility Audiopol Studio, based in Skien. 'We supply all kinds of events, but mainly jazz, acoustic music, worship, choir, theatre and musicals, all of which require high resolution and speech intelligibility,' says Eivind. 'We have no attachment to any manufacturer. When we buy equipment, our only criteria is that we want systems that can do the job in the best possible way.
'We listened to many different loudspeaker systems and chose the Alcons LR16 compact pro-ribbon line-array system purely because we knew it would be the right choice for the events we service,' he continues. 'It has been such a success that we have since supplemented it with LR7 micro line-array, VR12 and VR8 compact monitor systems. We have never regretted choosing Alcons.'
Having known the Skjærgårdssgospel worship leaders for many years, three years ago Audiopol Live was asked to supply the audio system for the event. The company and an Alcons system have been fixtures ever since: 'Audiopol were well aware of the audio quality that Alcons systems deliver before they asked us to get involved and now every year it is just assumed that Alcons is what we will use,' Eivind says.
'Alcons is an excellent solution; because of the very fast transient response of the pro-ribbon's mid-and high frequencies, the intelligibility is excellent, even with such difficult acoustics. Meanwhile, the horizontal spread is so clear and sharp that you can be very accurate with which zones you want the speakers to cover, while other zones will be silent.
'Setting up the cardioid subs as a end-fire array also means that the rearward low-frequency reflections don't cause a problem.'
New to the event this time was the use use of Alcons Sentinel amplified loudspeaker controllers at Skjærgårdsgospel: 'We have used Alcons ALC amplified loudspeaker controllers from the beginning and been very happy with what they provide,' says Eivind. 'So, we have been excited about how the new Sentinel amplifiers could compare to the ALCs. We found that the sound quality was every bit as good, but with the weight of an amplifier rack being about ten per cent of an ALC rack and the integrated digital system-drive processing, it made our job a lot easier.'