One of the Czech Republic's busiest live sound companies, Production 1 provides audio, video, lighting and staging for events such as the Old Punx Tour 2014 in Zlín, the Pilsner Fest 2014 in Pizen and The Faktor Fest 2014 concert on Sokol Island. Their diversity recently prompted the acquisition of a new mixing console…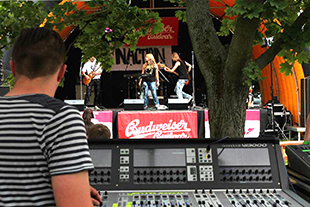 'We needed to upgrade to a console that would have the flexibility to accommodate any live sound rental situation,' says Stanislav Benes, co-owner and sound engineer at Production 1. 'We already had two Soundcraft Vi1 consoles, which we purchased because their sound was superior to what we had owned previously, and our positive experience with the Vi1 made the acquisition of a Vi3000 a logical step.' Benes was also drawn to the Vi1's space-saving form factor and attractive pricing.
The Vi3000 offers 96 channels to mix, SpiderCore 40-bit floating point DSP and Dante compatibility, as well as a control surface with four Vistonics II touchscreen interfaces, allowing it to be used by two engineers at the same time. The Vi3000 provides extensive connectivity and routing options and offers built-in Lexicon reverb/delays, dbx compression and effects.
In use, it immediately exceeded expectations: 'For us, sound quality is paramount and the Vi3000 is absolutely superlative in this regard,' Benes says. 'The mic preamps are exceptionally clean and have a great deal of headroom.'
Not only has the Vi3000 expanded the services Production 1 can offer, it's now one of the most-wanted pieces of gear in the company's rental stable: 'This console has become a favourite not just to me, but also to many of the sound engineers of the bands we work with and other rental companies that love to rent it,' Benes says.
He notes that although it has extremely sophisticated capabilities it's easy to operate, especially for experienced pros like him and the Production 1 staff: 'As soon as you put your hands on it you can tell this is a board that was designed by people who know what live sound engineers want and need.'
Production 1 purchased the Vi3000 from Czech Harman Professional distributor Audio Master. The company anticipates continued growth in 2015: 'In fact, we already know what our next equipment purchase is going to be,' Benes says. 'Another Vi3000.'