Danish public service broadcaster TV2 has upgraded its SNG OB truck (DNK-47) from SD to HD, moving its commentator intercom onto a Clear-Com platform and adding a BroaMan signal routing.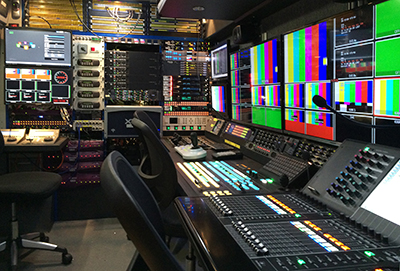 The use of four BroaMan Mux22 units – provided by Danish distributor Danmon – enables the Odense-based facility to transport multiple data and video signals over a single fibre link in the SNG truck, including HD-SDI, RS422, Sync and Ethernet network, using Dante as the audio platform.
'For years, the trucks have been a key component in our technical set-up for major sporting events – such as the Tour de France and the Handball World Cup – where it acted not simply as an SNG, but a small OB truck,' says TV2 Workflow Specialist and Project Manager, Kim Hansen.
This upgrade involved stripping the truck of cables and equipment, leaving only the HF installation intact: 'We then had to identify and purchase all components – very little could be re-used as it was SD equipment.'
The truck had originally been equipped with a fibre stage box but this could only handle SD, 'so, in the upgrade, we had to find a new solution,' Hansen admits. 'We were recommended BroaMan by some of our colleagues, and then saw the units for the first time at IBC 2014.
'After a positive demo and some further investigation, we quickly saw that this would fulfill our needs, and the decision to adopt this platform was quickly endorsed by the technical engineers on the project.'
The Mux22 boxes are configured as two independent chains, where each has one box in the SNG truck, and the other at a venue position: 'This provides an advanced stagebox solution," Hansen explains. 'We've made the interconnection between the boxes, with standard camera fibre cables, which means that we can use the same type of cable for BroaMan as for our cameras. This makes rigging easy, and we avoid the necessity of carrying dedicated spare cables just for BroaMan.'
In terms of network, the system is designed to carry three independent Ethernet connections via BroaMan; two 100Mbit links which are used for data network, and a 1Gb link which is used for Dante audio.
The advantages of the new studio design are evident: 'Previously, we would have pulled a large number of single or multi-pair cables from the SNG truck to the venue positions. This has been greatly simplified with the Broaman and Dante set-up, as many signals are now run via single fibres. Having a fibre-based solution means that we can run signals over greater distance, giving us even greater flexibility.'
The newly-configured truck was completed in December 2014, and the following day it covered its first job – the Women's Handball Championship in Hungary.
'The Broaman system has proven very useful,' Hansen reports. 'As a central component in the SNG truck it has been used on every production so far and is really proving its worth as an advanced stagebox solution.'
More: www.broaman.com