Having provided sound, lighting, staging, exhibit design and other services for India's largest events and concerts since 1982, Namdhari AV has recently become one of the first companies in the country to purchase a complete JBL VTX Series line array system, along with Crown I-Tech HD Series amplifiers.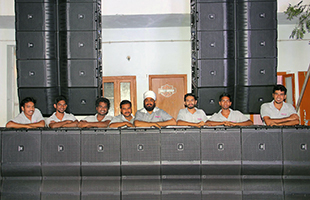 The investment follows the use of JBL VerTec line arrays and Crown I-Tech HD amplifiers at the Bharatiya General Party campaign for the 2014 Indian general election and other major events. 'It was logical to make the move to a JBL VTX and Crown system after considering all options and brands,' says Gurmukh Singh, owner of Namdhari AV.
'It was apparent to us that VTX is becoming the new international standard in line arrays and we wanted to bring this standard-setting performance to India,' he continues. 'Equally important, we knew we could rely on Harman Professional India unequivocally for sales, engineering and product support.'
Namdhari AV purchased 18 JBL VTX V25 full-size line array elements, 12 S28 subwoofers and six G28 ground-stackable subwoofers, along with accessory kits for transporting and covering the speakers. The company also added Crown I-Tech 12000HD Series amplifiers to power the loudspeakers and subs.
'A big part of the extraordinary performance we're getting from VTX is the implementation of the V5 presets on Crown I-Tech HD amps that optimize V25 performance,' Singh comments.
Namdhari AV quickly put the VTX system to the test at the 2014 Navratri festival in honor of Goddess Durga, which drew more than 20,000 attendees, and the Hum Hain Umeed-e-Kashmir benefit concert.
'We are extremely happy to have brought the V25 aboard,' Singh reports. 'It's more powerful, more efficient, is easy to use and install and has been totally reliable. Sonically and technically, it is a flagship product. It's just what we need to handle bigger venues and offer even more value to our clients.'
'This is an exciting development in the Indian pro sound market,' says Harman Pro India National Sales Manager for Tour Sound, Sundar Raj Thaddeus. 'We have worked with Namdhari AV for many years and their progress in the tour sound industry has been impressive to witness. Stepping up to the new JBL VTX and Crown I-Tech HD system is a logical next step in their advancement as one of the region's leading audio providers.'