Following its launch in Australia and New Zealand, and a successful run in North America, the How to Train Your Dragon Live Spectacular landed in China. More than 145,000 spectators attended the premiere at a newly-built theatre in the grounds of the Beijing National Stadium to see dragons with 40-ft wingspans brought to life.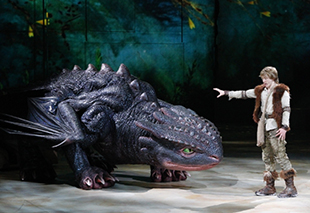 The challenge for Rightway Audio Consultants and sound supplier Dadong Huahan was to make the dragons sound as impressive as they looked without compromising the spoken voice and song from the cast of the dragons' human trainers. And all of this had to be done in-the-round, in an auditorium full of reflective surfaces. After rigorous tests, an L-Acoustics Kara and Kudo sound system was chosen to make the production soar.
To achieve this, L-Acoustics 54 Kara boxes in nine groups of six were installed on three sides, with Soundvision used to determine the deployment of speaker systems.
'Using Kara and Kudo, we were able to achieve perfect clarity, intelligibility and precision, as well as a wide dynamic range,' explains Vincent Zhou, Technical Manager at Rightway Audio Consultants. 'We especially appreciated Kudo's horizontal directivity, which enabled us to offer a superb audience experience, with sound, free of reflections. And since both Kara and Kudo offer extended vertical coverage, the arrays provided even sound distribution from the last seats on top, to the lowest row at the front.
'Using Soundvision, we were able to design each of our eleven hangs to perfectly cover our in-the-round configuration,' he continues. 'We used a distributed sub system, with an end fire array configuration in the corners to guarantee even low frequency coverage throughout the venue, while reducing excitement from the room and the seating blocks.'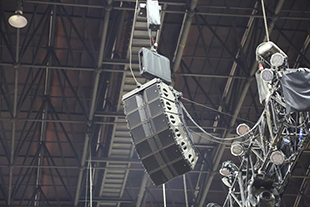 Because of the in-the-round set-up, distance between the speaker hangs was an issue that could have an effect on sound quality. To minimise the damping factor, Rightway flew the LA8 amplifiers: 'L-Case allowed us to place our LA8s directly above the Karas, so we could connect the arrays closely to the amps and avoid running lengthy cables,' explains He Biao, Chief of Dadong Huahan. 'We used the LA Network Manager to monitor and control the system in real time. It allowed us to make balancing adjustments, and to inspect all enclosures rapidly so we had a flawless performance at each show.'
For Alex Bryson, Head of Audio and Communications at the How To Drain Your Dragon performance team , the LA8 amplifiers provided peace of mind: 'There was considerable and constant pressure placed on the audio system to reproduce the various audio performance levels: crystal clear live vocal reinforcement, engaging music, playback and credible SFX needed to be delivered to every single seat in the arena, without forgetting about the rich and wide bandwidth voices of the dragons,' he says. 'The L-Acoustics Kara and Kudo, coupled with the SB28 amplifiers, handled all these tasks simultaneously with ease.
More: www.l-acoustics.com