Hitting the road on his first headline concert tour, Pharrell Williams' six-week Dear GIRL tour took in major venues in Western and Central Europe, including the UK's O2 Arena. Throughout the tour, the show relied on Shure Axient wireless microphones and PSM1000 in-ear monitoring systems.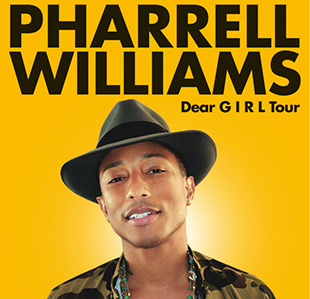 The adoption of the Shure systems followed Pharrell's appearance at the US Coachella festival, where the band encountered continual RF interference during the first week and resorted to using wired microphones.
'When I started talking to the FOH guy, it became obvious that Pharrell wanted the best of the best,' recalls monitor engineer Jeremy Peters. 'From the beginning, there was no resistance to simply getting the very best gear. I knew what ears I wanted to use – I love the PSM1000s: they sound terrific, the RF on them is great, and they have a lot of gain, so that was a no-brainer. And for the mics, I wanted to go Axient from the beginning.
'I've worked for and with [Nashville audio technology vendor] Sound Image many times before, everything from FOH to System Tech, and have worked with Matt [Bock] on some really big gigs where he was handling the RF side. I asked him about Axient, because he was the only person I knew that had really toured with it and built a rig from scratch, who knew what we would need. He basically put the whole rig together for me then, before he even came on board properly. Then we took on Sound Image officially, and I was asked if we should get Matt – I said, yes, you bet.'
Bock specified six channels of Axient, two for Pharrell's vocals (one main and one backup, both running in Frequency Diversity mode), two for main support vocalists, and two guest vocal channels. Tem channels of PSM1000 in-ear monitoring were also used for the members of the band, with Shure UHF-R wireless mic systems supplying four more channels for supporting instruments.
In order to ensure that the wireless systems were correctly specified for use in Europe, Sound Image approached Wigwam Acoustics' parent company SSE to supply a duplicate of the equipment used on the US dates. Wigwam supplied the equipment; Shure Distribution UK fulfilled the order and carried out tech support for the tour as it moved around Europe.
'RF interference is such a problem at live venues now, and the situation is only going to get worse around the world as more and more spectrum is given over to mobile communications over the next few years,' explains Bock, 'My experience of using Axient in the past had shown how reliable and resistant to interference it was, so that was my recommendation to Jeremy Peters. It was also because I really rate the Axient spectrum manager, the AXT600, and Shure's Wireless Workbench management software, which I use with wireless systems from Shure and other manufacturers. Using those has allowed me to plan for the worst-case scenario in each venue – and then if it's not so bad when you actually get there, you're as prepared as you can be. That's really my watchword: plan for the worst, hope for the best.'
As the main part of the tour got underway in Europe, Bock had further cause to be glad of his choices: 'Some of the venues were very noisy in RF terms. In one country, I decided to use the PSM1000s in 100mW high-power mode, and I had to get special licences for that. That limited me to certain carefully defined frequencies for those, but I was able to ring-fence those by using the inclusion groups feature in Wireless Workbench, and then tuning all of the other wireless equipment to different frequencies around the in-ears. That was a really cool feature that I haven't been able to use with other programs I've used for wireless coordination. And in Italy, where I've had RF noise problems in the past, I was able to put the Axient transmitters in high-power mode, and pad the inputs down on the Axient AXT630 Antenna Distribution system to lower the RF noise floor. Axient was really useful there, in terms of making the most of the available RF spectrum.'
Jeremy Peters was equally pleased with the performance of the Axient and PSM1000 systems: 'From a monitor engineer's standpoint, once we took on Axient I didn't have any problems with RF during the whole tour – and that's pretty rare. With this kit, it didn't happen – not once. That reliability is worth something. As a mix engineer, it's one less thing to worry about; I can be focused on mixing and how everything sounds, without being distracted by whether the signals are even going to make it to the desk in the first place.'
Sound Image is onboard for Pharrell's forthcoming US live dates: 'We'll be continuing to use the same gear that served us well in Europe,' confirms Bock. 'In fact, I'd like to move more of the backline over to Axient as well.'