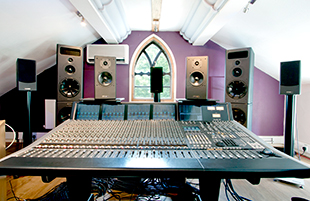 Originally the private recording studio of folk legends Fairport Convention, Woodworm Studios is now operated by recording engineer Stuart Jones and is based around a Pro Tools HD system, a 24-channel Solid State Duality SE console and PMC TB2S-A MkII surround monitoring, with a pair of MB2 XBD-As serving as the main stereo reference.
A battered sign at the entrance still welcomes you to 'the Woodworm Hilton' – the origin of the studio that occupies a converted chapel in the Oxfordshire Cotswolds – dating back more than 30 years before Jones acquired and renovated it in 2012.
'I have long been a PMC fan, hence the surround array,' explains Jones of his loudspeaker choice. 'I needed some high-quality large-scale reference monitors for Woodworm when I finished the renovations, but the nature of the room doesn't lend itself to flush-mounting; soffits would have taken up too much space and restricted the natural light, which is one of the great things about the place.
'Of course, PMCs work equally well whether they're flush-mounted or free-standing. I tried the MB2 XBD-As and the decision was made, really. There's a reason for their amazing reputation. They sound equally natural whether they're running at full tilt or quietly, and whether I'm working on full-on rock music or an early music ensemble.

'The MB2s have really taken the guesswork out of mixing for visiting engineers and producers, especially for the tricky low-end frequencies.'
Previous owners Fairport Convention are presently back at Woodworm working on new material, and Jones is working on a project to capture rare 17th century folk music in recorded form for the first time on behalf of Queens University Belfast, in collaboration with classical producer Nick Parker, and with contributions from vocalist Maddy Prior.