Determined 'to inspire and challenge', the Muziekgebouw Frits Philips Eindhoven regularly hosts internationally renbowned philharmonics and soloists, as well as contemporary artists for an audeince numbering more than 160,000 every year.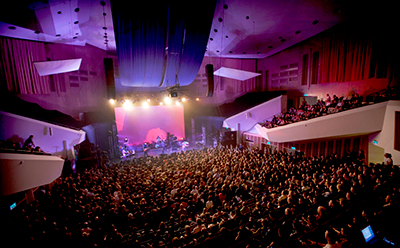 Located in the heart of Eindhoven, the hall is is one of Holland's leading music venues and – following a full interior and exterior redesign in 2010 – has recently completed an upgrade of its audio system.
The main auditorium, the Grote Zaal, is exceptionally flexible, featuring a ceiling, walls, floor and seating which are all moveable. These features make it an equally space for everything from intimate chamber music to full orchestras.

'At the beginning, we wrote down a list of what we needed from a new mixing console,' says Deputy Technical Department Head, Tijl Schroevers. 'A special requirement was the amount of fan noise generated by the console, because Muziekgebouw is one of the quietest concert halls in Europe. We stage a lot of modern music, which needs a huge amount of acoustic headroom, so we can't have devices that produce noise. Having had a DM2000 for nine years, we were used to that not being a problem.'
'It was important to project the coverage of the loudspeaker system on the audience field, avoiding the acoustic panels,' says Rene van der Linden, Sales All Project Manager. 'L-Acoustics line arrays are well known for their precise projection capabilities, so it was an obvious choice for us.'
ISO Audio and AudioPro were consulted and a four-way shootout between consoles was arranged. Supplied by ISO Audio, the winning system comprised CL3 console, a Rio3224-D and Rio1608-D I/O units was chosen. Three MY16AUD interface cards were also purchased, which have allowed the hall's existing DM2000 to be an integral part of the new system.
'Yamaha consoles are used worldwide, so any guest technician knows and accepts the CL without any problem,' says Schroevers. 'The aesthetic character of the console was also very important. The user interfaces on some other consoles are solely designed for live use, with a lot of bright illumination. This can be optically very distracting in an environment like Muziekgebouw.
'Another advantage for us was that, by adding the Dante interface cards, the DM2000 could continue in use, now as a monitor console. It still works perfectly and so using the Dante cards made for a really cost efficient system. Dante makes our system future proof, but it has also given a new lease of life to products we already had.'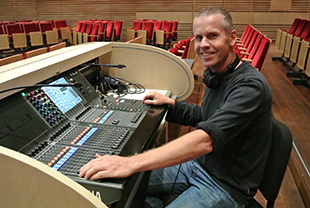 The technical team set up the CL3 with a couple of standard configurations, which can be recalled for quick initialisation and use of the system. From these, each technician has made their own tweaks, saved to USB memory sticks for instant recall. For guest technicians, a scene has been created with all the settings they might need. 'Although we didn't initially think we'd use the CL StageMix app, it has turned out to be a fantastic tool. The console has been connected to our internal Wi-Fi system, and we use StageMix a lot,' Schroevers says.
'We use it for monitors, as well as for doing fine-tuning of the house system. It's really helpful to be stood by artists to communicate with them, not having to shout down the hall. We are also looking forward to the CL Version 3 software, which will give us Dan Dugan automixing within the console. We have rented Dugan hardware before, when we had an important conference, so having it included in the system will be a fantastic feature.
The loudspeaker system
The auditorium is fitted with absorptive and reflective panels all throughout – which are good for acoustic performances but presne t a challenge for to music. Dutch audio provider Sales All was brought in to design a system that could guarantee fidelity sound at each seat.
A 22-box, two-way, LR Kara system was installed, complemented by eight two-way XT coaxial loudspeakers. Low-end reinforcement is handled by SB18 subwoofers, which are configured cardioid to avoid slap echoes from the rear of the stage. The system is driven by LA8 amplifiers with a Dolby Lake LM44 processor for control.
'Because of the aesthetics of the hall and the sight lines, we had to configure a LR system with perfect coverage both vertically and horizontally, as it wasn't possible to configure a system with out-fills or a centre cluster. The 110° horizontal dispersion of the Kara system made it possible to achieve great results,' says van der Linden. The shape of the venue is short but wide, so the subwoofers were flown with the Kara arrays. 'The Kara system has the advantage of going all the way to 55Hz in the low frequencies, which results in a full-range sound image even for the highest seats,' van der Linden reveals. 'In combination with the flown SB18s, the result is a smooth, powerful low impression throughout the entire hall.'
Local concert promoters were consulted during the commissioning phase, as one of the aims was to provide a rider-friendly system that would be appeal to a wide variety of acts. After the design phase, extended testing was carried out with live bands and theatre shows.
Sales All System Designer Ben Brouwers has chosen the Kara system for its directivity and versatility, and also its rider-friendliness. 'The total array is divided into two parts, and is transportable in custom made dollies,' van der Linden explains. 'This results in a very versatile system, which is easy to assemble and disassemble, and that's a huge advantage for the venue, as the shows are so intense, and also very varied.
And the system already has its fans : 'We've had a lot of good feedback from the venue, and the technical staff that come in with the touring performing artists,' says van der Linden.