Entertainment is as much a part of a mall as shopping – which is why Nave de Vero features a live performance area complete with high quality Yamaha digital audio system.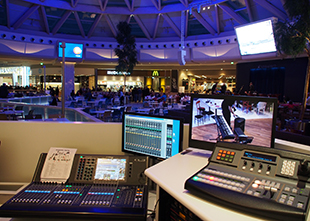 Situated in the municipality of Marghera – a 15-minute drive from Venice and 30 minutes from the city of Padua – Nave de Vero offers 115 stores it includes 15 dining outlets, most of which are concentrated around the first floor Piazza de Vero. The Piazza also features a stage and flown PA system, which are used for a wide variety of live entertainment.
Bologna-based Rokepo was chosen to supply the audio system, which includes a Yamaha CL3 digital mixing console and Rio3224-D I/O unit. The CL3 is fitted with an MY8AD24 interface for eight local analogue inputs, while an MTX5D matrix processor manages the routing of audio to the Piazza, as well as to the Italian shoppingcentre's zoned loudspeaker system.
'Nave de Vero is one of Italy's best shopping centres, its intention is to focus more and more on live events to complement the retail experience,' says Rokepo project manager Roberto Valentino. 'As it is currently the only one in Italy with a high-quality live audio system, there could be no compromise on the mix quality. The Yamaha CL Series delivers superb sound, it's really easy to use and also has a terrific price-quality ratio.'
While audio quality was necessary to help Piazza de Vero attract high-calibre performers, the fact that Yamaha consoles are an industry standard was also a factor: 'When you talk to artists about Yamaha digital mixers, you can't fail,' Valentino says. 'They are always accepted by sound engineers, making it easier to promote Nave de Vero as a venue to artists.'
Maintaining the fidelity of the audio throughout the system is also important to the system's success, which is why Rokepo chose the MTX5D matrix processor: 'The MTX5D is remarkable flexible and its onboard Dante audio networking allowed it to slot seamlessly into the Nave de Vero system,' says Valentino. 'Facilities like the Priority Ducker, Ambient Noise Compensator and onboard speaker processor mean it is ideally-suited to shopping centres, yet it is very straightforward to program and delivers exceptional quality distributed sound.'