Now in its second season, National Geographic Channel's Ultimate Airport Dubai chronicles the day-to-day activities at Dubai International Airport –one of the busiest hubs on the planet. The show provides a close-up look at the aircraft, the stressful situations facing the staff and colossal engineering projects to complete.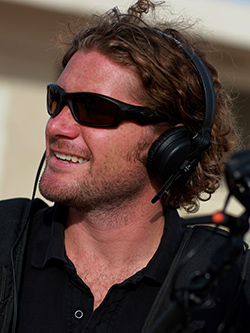 Documenting the activity is British cameraman/soundman Tom Savage, whose equipment includes wireless systems from Lectrosonics.
Based in Dubai, Tom Savage is no newcomer to high-profile TV work, having worked with the BBC, ABC, Associated Press, ESPN, the Discovery Channel and Thomson Reuters. He takes particular pride in his contribution to Shooting the Messenger, Al Jazeera's documentary on the killing and intimidation of journalists in conflict zones, which has been nominated for a Emmy Award.
'Ultimate Airport Dubai Season 2 is produced by Arrow International Media for Nat Geo,' Savage explains, 'For this show, I was working with four Lectrosonics UM400a beltpack transmitters plus one HM plug-on transmitter and, for receivers, I was using the company's SR Series dual-channel, slot-mount ENG units. For the most part, we used an average of four channels for any given day of shooting.
'Providing clear audio while working in and around a bustling airport with a countless number of obstacles to contend with is no small challenge, and my Lectrosonics gear handles it all really well' he continues. 'With all the planes taking off and landing, trucks, construction work, and numerous other obstacles that routinely come between the transmitter and receiver, I've been really impressed with how easy the equipment is to use and the audio quality I've been capturing.'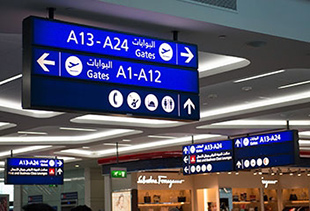 Savage also reports that, with constant moving about the busy airport and its heavy RF traffic, the Lectrosonics gear handles the daily grind well: 'I've been very impressed with Lectrosonics durability,' he says. 'We work among some pretty extreme temperature variables with really high humidity – frequently near 95 per cent – and the gear never blinks. This equipment also takes its fair share of knocks. It routinely gets bumped when passengers run up and down the stairs, jump in and out of cars, and so forth. I find this equipment light and easy to use, which makes all the difference when you're working in this type of environment.'
In Savage's line of work, knowing that your equipment manufacturer has your back is vitally important: 'My experience with Lectrosonics' customer and technical support services in the US has been brilliant,' he reports. 'The staff are very easy to work with, knowledgeable, responsive, and very professional. I once had to get my HM transmitter repaired and the representative for the Middle East & Africa went out of his way to put me in contact with the 'the mother ship' so I could get my transmitter working again. I was really impressed.
'I've been using Lectrosonics for four years and have had a very positive experience. Being able to deal with extreme heat, humidity, sand, dust and other conditions for months on end for over 12 hours a day without even a glitch is no small accomplishment. The gear sounds great, is incredibly reliable, and I couldn't be happier with the service and the professionalism I've encountered from the company.'