With a new album almost complete, alterna-metal act Faith No More are returning to the music scene after a 17-year hiatus. Known for regarding recording and production as a part of their creative process, the band have been working in their own private rehearsal space, Estudios Koolarrow, in Oakland.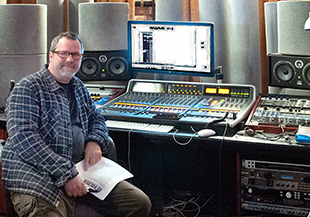 Bassist and songwriter Billy Gould is also producing the album and has used his SSL Matrix to streamline the recording process: 'Matrix was a great way to get a lot of recording done within the small footprint needed to fit this space,' he says.
The Matrix is his personal console, which he has been using for other production projects, some of which can be found at the excellent Koolarrow Records web site. 'Previously, I had been working in the box and having a real master control section and analogue channels have been a major step forward. The last album we recorded, in 1997 was done in a full-service studio, on two-inch analogue tape, although we did use an early Pro Tools system, which was a first for us. Back then, the state of the business was totally different – as a musician, recording was a process that was usually overseen by producers and engineers in commercial facilities. Something like the Matrix allows us to be creative in our choice of recording environment. It sounds good and is manageable enough for an easy install and to get up and running.
'The Matrix has been a great box for tracking,' he continues. 'Simply doing things like setting up monitor levels happens very quickly. It's great having real input channels, being able to use our own selection of outboard mic preamps, blending mic channels using real faders and setting record channels with the touch of a button. Everything is done within the same console. I like this thing.'
The album is slated for release in April 2015 on the band's own Raclamation Records label. 'The [label] name has to do with the fact that we realised we were free from our recording obligations,' Gould says. 'We weren't touring, we have these songs that we were working on — that we think are pretty cool — and why don't we just do our own imprint and kind of reclaim our future, in a way? We own the future more than we ever have.'

The band is also planning a full US tour to support of the album release.
More: www.solidstatelogic.com