Known to Hungarians as Müpa, Budapest's Palace of Arts unites the arts in a unique fashion, by providing a home for classical, contemporary, popular and world music, jazz and opera, as well as contemporary circus, dance, literature and film.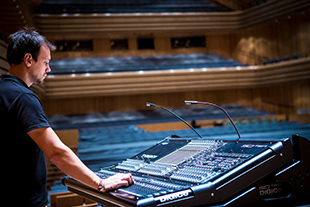 Opened in 2005, it was built to represent more than a hundred years of Hungarian cultural history and, as a conglomeration of cultural venues, the building has no precedent in 20th century Hungarian architecture and claims no peers in the whole of Central Europe.
The institution states that its 'fundamental task is to introduce new artistic trends and directions – while respecting Hungarian and European artistic traditions – and to relay them in a clearly understandable way that creates rich and rewarding experiences to be enjoyed by both the connoisseur and the person on the street.'
To this end, it has five performance rooms and a further five event places. The biggest room is the Béla Bartók National Concert Hall where a new DiGiCo SD10 mixing console resides.
'The Palace of Arts' sound engineers gained a lot of experience on DiGiCo consoles, particularly the SD8, during this summer's festival season,' says Imre Makkay of Chromasound, DiGiCo's Hungarian distributor who supplied the Palace's SD10. 'They found it very easy to handle, transparent sounding and they always had great backup from the local tech support team. They found the number of input and output channels really impressive and at the moment the DiGiCo SD10 is one of the most rider-compatible consoles in the industry.
'In the Palace of Arts, the technology they use is specified to an extremely high level and to drive the Meyer Sound PA, they needed to have an absolutely top quality console. It is unquestionable that the DiGiCo SD10 is just that.'
More: www.chromasound.hu
More: www.digico.org