London's Earls Court – the historic home of the Motor Show – was the setting for the official launch of the Jaguar XE. A 90-minute performance showed 17 different Jaguars through the ages to the 3,000-strong audience, involving a Morris Minor, a cast of West End performers, a 30-piece orchestra positioned upstage on a moving riser and musical performances from the likes of Emeli Sandé, Eliza Doolittle and the Kaiser Chiefs.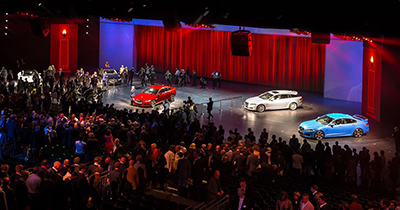 Freelance sound designer, Sebastian Frost worked closely with Imagination Head of Sound, John Del Nero, to create natural theatre sound on the 53m x 30m stage, using a TiMax SoundHub audio showcontrol delay-matrix (supplied by London-based production hire company, Orbital Sound) not only to contain the sound but also to ensure that the audience in the raised auditorium seating could 'pin sounds to the source'.
'Without TiMax, the performance would have been flat and the intelligibility severely hampered in such a big space,' Frost explains. 'There were so many different sources of sound – bands were positioned downstage, some over to the side, some upstage, as well as individual performers – and we needed to cope with those different inputs on a quickly changing basis.'
With such a complex build– involving more than 85 tonnes of truss and equipment and possibly the largest load to have ever hung from the building's roof – technical and dress rehearsal time was short. Time was at a premium and Frost 'did the initial set up and calculations [for TiMax] as soon as we were in the venue and then trained up the very talented Chris Whybrow who was to be my TiMax operator'.
Well versed in the capabilities of TiMax, Frost set up seven zones on the stage, allowing Whybrow to work through rehearsals allocating buttons and resources in TiMax to every point of the show. Frost confirms: 'It was the first time Chris had used TiMax but he was able to just get on and built 50-60 cues very easily. He's a very good engineer which helped, but it was still easier than expected.'
The sound system comprised four arrays of d&b J-series boxes in a row over the downstage, with four delay arrays of d&b V-series half way back in the audience stands. The main FOH consoles were DiGiCo SD10s, which also triggered the TiMax Soundhub Cues via MIDI.
'TiMax really helped cement the believability of the performers on stage and create a theatrical environment for the entire production which in Earls Court is no mean feat,' Frost says.
More: www.outboard.co.uk