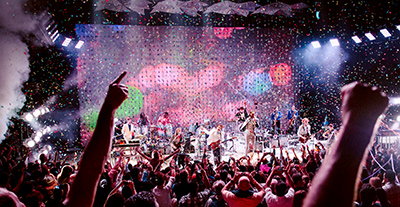 With live shows characterised by a constantly-evolving blend of guitar, drums, bass, piano, string quartet, xylophone, glockenspiel, keyboard, synthesiser, French horn, accordion, harp, mandolin and hurdy-gurdy, Arcade Fire show are still pushing a career that began with the release of Funeral in ten years ago.
When the band was poised to head out on the road in support of their most recent album, Reflektor, FOH engineer Jim Warren and tour sound reinforcement provider Solotech knew what was required of them. This outing represented Solotech's first official use of L-Acoustics' new K2 enclosures, which were typically flown 14 per side as out fill for Arcade Fire, and also used for main PA in smaller and outdoor venues.
'I was very impressed with the K2, both in its seamless integration into a K1 rig as side-hangs, but equally in its performance as a standalone PA in smaller venues, where I felt its wider dispersion was well suited to venues where a shorter throw was necessary,' says Warren, who has also mixed FOH for Radiohead, Peter Gabriel and Nine Inch Nails.
'K2 is a terrific cabinet and an amazing product overall,' adds Marc-Olivier Germain, Solotech's audio system technician for the tour. 'Its low weight is one of its best features – you can hang it pretty much anywhere. Rigging is great, and if you already know K1, it's a piece of cake to work with K2. But that being said, I was also tremendously impressed by the amount of power that comes out of this box for its size.'
Aside from K2 out fills, Solotech used left and right main arrays of 14 K1 enclosures, each with six Kara for down fill. Eight K1-SB low-frequency cabinets were flown on the outside of each main array, with 16 SB28 subs groundstacked below for punch. Additional loudspeakers included six Kara front fills positioned across the deck, 16 Arcs flown as a full 360° donut over the B Btage for pre- and post-show DJ performances, 12 Kudo delays (first leg only), 52 LA8 amplified controllers, and three self-powered 108P plus one SB15P at FOH for close-field monitoring and shout.