Mercyhurst University boasts three venues at its Erie, Pennsylvania, campus – two smaller spaces for acoustic performances and the 792-seat Mary D'Angelo Performing Arts Centre, which opened in 1996 as part of the University's Institute for Arts & Culture (MIAD).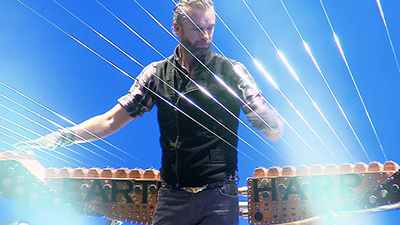 The university routinely stages jazz and orchestral concerts, but the also attracts unconventional acts such as William Close, maestro of the Earth Harp – the longest stringed instrument in the world – and Ugandan artist Simite, who plays the kalimba (thumb piano).
'All the artists that play here have a very specific idea of what their art and their presentation should sound like,' says Fact AV Technologies owner, Eric Johnson. 'My goal is to try to reproduce their vision as closely as possible using the tools that I have.'
To ensure the space is enveloped in uncompromising, pristine audio, Johnson relies on a Powersoft amplifiers, EAW loudspeaker systems and digital mixers from Midas and DiGiCo.
When he set up Fact AV Technologies more than 25 years ago, Johnson set out to raise the standards of live sound for small scale and intimate venues, raising audio quality to levels more typically found in larger halls and higher seating capacity performance spaces. To stand out in a crowded market of A/V solution providers, Johnson decided to come in at the high end, and build his audio racks around Powersoft amplification,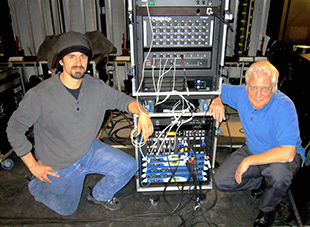 For performances at the Mary D'Angelo Performing Arts Centre, Johnson relies on just four rackspaces of Powersoft amplifiers to cover FOH – two K10s for the subwoofers, two K3s for mid and high frequencies, and an M50Q for the balcony. 'I can hit 110dB on the back wall if I want to,' he exclaims. In addition to his Powersoft amplification at FOH, he typically has four EAW loudspeaker cabinets on stage and another pair of loudspeakers off of the balcony, all running through a 48-channel Midas Pro 2 digital console. At monitors, he has a rack with three Powersoft M50Qs, and other with the Powersoft M30s, with audio running through the DiGiCo console.
For Ugandan artist Simite, it was a 'bare minimum' performance with just seven channels, but the nua audio was critical to the performance: 'I was unfamiliar with most of the instruments in his arsenal except for the acoustic guitar,' Johnson admits. 'So I approached it like I might approach a jazz band, trying to make the performance as transparent and full sounding as possible without making it sound forced.'
Johnson is convinced that his high end Powersoft amplification helped him capture exactly what the artist wanted to hear: 'As he played the kalimba, the guitar player intertwined melodies in such a way that you really needed to hear every single note they were playing. While this was going on, Samite was singing with loops and creating very complex harmonies.'
In contrast to the diminutive kalimba, the Earth Harp played by William Close with the Earth Harp Collective was on a much larger physical scale. As the largest stringed instrument in the world – with brass strings spanning hundreds of feet – the Earth Harp was strung from the stage to the balcony of the theatre. The tones created by the Earth Harp are rich with harmonics and complex overtones. According to Johnson,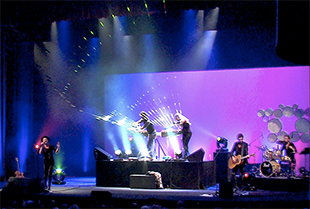 'As William began stringing his Earth Harp from the stage to the balcony of the theatre, I was scratching my head wondering what in the world this was going to be like,' Johnson recalls. 'With a jazz band, you have preconceptions and can anticipate what it is going to sound like, but with someone like William, who is a true innovator, there is no basis because it's never been done. Thanks in large part to my Powersoft rig, I was able to accurately represent those sounds, and in this case that really made the show.'
'Mercyhurst is one of my favourite places to perform and the sound system is amazing,' Close says. 'The harmonic tones of my Earth Harp were so clear and powerful; there is no doubt in my mind that the Powersoft amplifiers helped bring this instrument and all the other instruments to a whole new level of sonic splendour. The concert hall itself really became the instrument, and the sound system brought out all the musical magic and detail.'
For Johnson, the amplification is a critically important choice: 'In my work, it all comes down to my tools, and Powersoft plays a big part of this,' he says. 'These performances are subtle and delicate, so it is critical to have equipment that is going to perform that way. With my K- and M-series amplifiers, I don't have to spend a lot of time getting it to sound just like the artist wants.'
More: www.factaudio.com
More: www.powersoft-audio.com
More: www.digico.org
More: www.midasconsoles.com