UK youth music development charity NYMAZ has won funding from the Digital R&D Fund for the Arts to explore new methods of providing music education to children living in rurally isolated areas. Seven primary schools in North Yorkshire are to participate in a trial to identify how video-streaming technologies and online communication tools can be combined to offer instrumental tuition, staff training and access to inspiring music performances.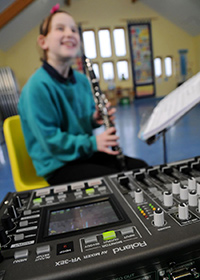 NYMAZ itself will be working with the North Yorkshire Music Hub, alongside the University of Hull as research partner and Roland dealer UCan Play for technology support. The Roland VR-3EX 'all-in-one' A/V Mixer has been chosen to play an integral part in the venture, as it supports multiple camera angles to enable greater interaction and quality of experience for both student and music leaders.
'UCan Play chose the VR-3EX as it offered a brilliant set of video and audio streaming capabilities and the touchscreen interface is particularly accessible for users of varying technical ability,' says UCan Play MD, Jonathan Savage. 'The simple connectivity that the device offers for video cameras and microphones, together with its USB interface with a laptop computer, has made it very simple to train teachers to use and the early lessons featuring its use during November 2014 have gone well.
'As well as live streaming events from concert venues across North Yorkshire, the VR-3EX is being used by instrumental teachers and primary school teachers to help young children in remote locations learn their musical instruments. The VR-3EX feed has been fed into Skype to allow teachers and pupils to work together. Rode microphones are being used to capture high-quality audio.'
The VR-3EX is a four-channel SD performance mixer which features HDMI inputs/outputs, USB streaming, HDCP support, a built-in touch multi-viewer and an audio mixer all in a compact, portable unit. Its interface places the audio mixer on the left and the video mixer on the right for intuitive control. As a USB Video/Audio class device, web streaming only requires connection to a computer running a live streaming service. The output can also be recorded using the free VR Capture software from Roland (Windows or Mac), or by using native OS applications such as QuickTime on a Mac.
'Our aim is to find a new business model, which will enable Music Hubs across the country to deliver cost-effective but high0quality learning to children and young people in the most isolated areas,' says Heidi Johnson, Director of NYMAZ. 'North Yorkshire makes the perfect test bed as transport times and costs here can limit opportunities to access music tuition and performances.'
'Children thrive on music, and there's plenty of evidence to show how beneficial it can be in their development, so we jumped at the chance to be involved in this innovative project that aims to improve access to high quality music tuition and inspiring performances,' adds Dr Andrew King, Senior Lecturer in Music & Technology at the University of Hull.
The project is supported by the Digital R&D Fund for the Arts – Nesta, Arts & Humanities Research Council and public funding by the National Lottery through Arts Council England – and is one of twelve innovative arts projects in the UK to receive funding as part of the Fund's fifth generation of initiatives.