Imperial College London's Student Union has completed a major refurbishment of its radio, television and music facilities, with the help of audio and video equipment supplied by HHB Communications.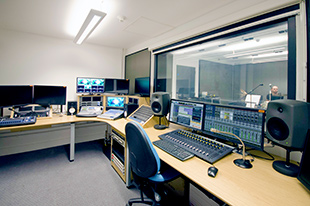 Following the installation of an HD video infrastructure based on Blackmagic Design video equipment, the TV production studio is now equipped with an Avid S3L-X mixing system, while its radio station features a Studer OnAir 1500 console. Genelec loudspeakers a PreSonus digital mixing console, Yellowtec m!ka microphone stands and microphones by Røde and Shure are also used throughout the building.
The Avid S3L-X is used in dual mode, as both a live sound console for TV audio during the day and as a Pro Tools HD audio postproduction mixer in the evening. The Union chose the 32-input S3L-X system with two 16-input stageboxes that can be used remotely throughout the facility and linked back to the mixer via installed data cabling. The Pro Tools HD equipped edit suite uses an Avid Artist Control mixer and a Genelec 5.1 monitoring system.
'We extensively researched our choice of consoles and found that the Avid S3 is an extremely versatile solution that offers powerful features for both live sound mixing and control of Pro Tools sessions for music recording and postproduction,' explains Imperial Media Technical Manager, Max Hunter.
The TV studio operates in HD format using HD-SDI interconnections and makes extensive use of Blackmagic Design's VideoHub 72 router and Atem 1M/E video switcher. The OnAir 1500 laaows The Union's new radio studio to operate as a 'self-op' music facility that broadcasts music programming and magazine style discussion shows 11 hours a day.
'The Studer OnAir offers an impressive feature set and it is extremely easy to use for new and veteran DJs. It is the perfect fit for the studio,' Hunter comments.
'The upgrades at Imperial College bring its facilities to a truly impressive standard,' says HHB Educational Sales Manager, Andrew Hingley. 'The students now have access to the latest technology that provides the versatility and functionality that a multi-purpose facility demands.'
The Union also has a new ElectroVoice PA system for its Rock and Jazz Contemporary Music Society.