Funktion-One has completed an installation at the One Club – the first Funktion-One installation in Guatemala.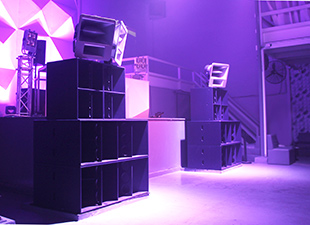 Dubbed Central America's first 'super club', the 1,200-capacity venue elements of an exclusive lounge with a high-energy nightclub with technology is at the heart of its operation. Along with some of the latest Funktion-One speakers, the club uses video mapping to bring colour and movement to its architecture.
Blue Box, the company responsible for introducing the loudspeaker manufacturer to Ibiza over a decade ago, is behind the install. 'Funktion-One contacted me to say they had an interesting project in Guatemala,' says Blue Box's Mark Metcalf. 'I have a long-standing client in Ecuador and tend to help Funktion-One with new territories, so it was a natural fit'
Blue Box configured the loudspeaker system in two stacks. Both feature two F221 double 21-inch bass enclosures on the bottom, two F215 Mk2 bass enclosures in the middle, and a pair of Resolution 3 SH EVOs on top. While the F221 and F215 are both established members of Funktion-One's bass range, the Resolution 3 SH Evo is a recently launched addition to the Resolution series. It is the next generation of mid/high products derived from the Resolution 3. Compared to previous models, it has an enhanced vocal presence thanks to the new driver and waveguide combination.
'We wanted to go the extra mile when creating this space, paying special detail to how it looks and feels, and even more importantly to how it sounds,' says Club One Director, Enrique Ponce. 'The Funktion-One installation gives out an organic sound, which we feel is true to what the club stands for. We are thrilled about being able to offer this experience for the first time in Central America.'
The project was not without its demands, as Metcalf explains: 'The short lead time and getting the equipment to the venue was a bit of a challenge,' he admits. 'They had an opening date fixed and had booked Kascade to perform, so once the spec was nailed down, Funktion-One pulled out all the stops to get the system built. And we were then at the mercy of airlines and customs…
'The kit eventually arrived – three-days late, but with a concerted effort from all involved, including Enrique pulling cables. We managed to get the system up, running and sounding really good just before the doors opened. We achieved very good, even coverage over the dancefloor and side VIP areas.'
The club opened its doors with Kaskade headlining a sold-out event. In its first month, Club One hosted Eva Shaw and Alex Metric and announced the performances of Green Velvet, Rehab and Patrick Topping from Hot Creations. As well as international DJs, the venue supports local talent with Project 1 – a bi-monthly residency that brings premier electronic dance music to the heart of Guatemala City, while promoting local performance and production talent.
Club One Events Manager Mario Camilleri has previously been a promoter at Privilege in Ibiza and for clubs in Holland: 'Since opening, it's been a very exciting period of time for us,' he says. 'While all that's been going on, we've also been planning 2015's programme, so it's been quite hectic. No matter how busy or stressed we are, we always have a smile on our faces when we open the doors and switch on the Funktion-One sound system.'
More: www.blueboxco.com
More: www.funktion-one.com