As the newest addition to the NCIS franchise, NCIS: New Orleans has debuted on CBS in the US. Capturing the show's audio takes both skill and the right tools. In the hot seat is Robert C Bigelow, who serves as the Production Sound Mixer for the show.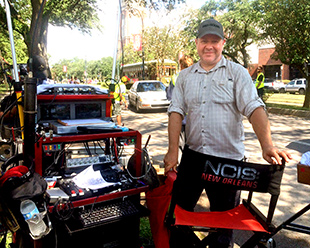 With a career in music and film that spans the better part of 30 years, Bigelow's credits include work with artists such as The Neville Brothers, Dr John, Elvis Costello and Rebirth Brass Band, while his film work encompasses everything from documentaries to major motion pictures. For NCIS: New Orleans, Bigelow Lectrosonics kit includes eight SMV, four SMQV and six UM400a beltpack transmitters, as well as two HM hand-held transmitters. On the receiver side, he uses four SRb receivers in an Octopack on his main cart, along with UCR411a compact receivers in his bags.
'I've been working with Lectrosonics equipment for more than 12 years,' he says. 'The sound quality is truly, hands down, second to none. Lectrosonics' Digital Hybrid Wireless technology delivers pure, unadulterated low noise signal with full frequency range with no companding. I experience none of the pumping and other sonic artifacts that I've encountered with other equipment. Lectrosonics wireless technology is the only system I've found that delivers the sonic quality necessary for critical recording.'
'In addition to the transmitters and receiver , I'm also using New Endian LLC's LectroRM remote app for the iPhone plus Lectrosonics SNA600a adjustable dipole antennas and ZSC24 passive RF splitters. The ability to scan quickly for open RF is invaluable and the durability of the equipment is impressive. In my line of work, the pace is fast, hard, and ever-changing – no two environments are the same. When it's time to roll, I need to know that my gear is solid and reliable. From the wet, humid swamps to the chaotic hustle and RF congestion of the French quarter, Lectrosonics delivers every single day.'
Wireless range is another very important consideration for location sound engineers like Bigelow: 'No other wireless system offers the range with such smooth, consistent RF reception and the ability to adjust the wattage as I have with Lectrosonics' SM series,' he reports. 'We do a lot of work around the area's shipping channels and ports. We have ships from all over the world using the full spectrum of high powered radio frequencies. Without the ability to go to quarter watt, I'd be dead in the water – pun intended. If you want pure, clean, powerful unadulterated sound, there's only one choice.
'With first rate audio performance, build quality, and RF agility, I simply could not imagine working without my Lectrosonics products,' he adds. 'This is a very competitive business and there's little patience for error or anything that holds up production. Without the quality products and outstanding support of Lectrosonics, I would have never made it to where I am today. Lectrosonics will continue to be a critical element of keeping me on top of my field.'
More: www.lectrosonics.com