Forte Music has been appointed distributor of L-Acoustics systems in Bulgaria.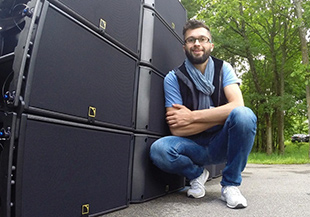 'We have been monitoring Bulgaria for some time, and we believe it is the right time for L-Acoustics to have a reliable partner there,' says L-Acoustics Sales Manager, Tim McCall. 'Forte is a strong local player and we feel they are the perfect partner to bring our products to this market.'
Forte joins a worldwide network of L-Acoustics distributors and has already sold a system to rental stager Joker Media after a demonstration at L-Acoustics' headquarters. The purchase, which includes an inventory of L-Acoustics K2, Karas, as well as SB18 and SB28 subwoofers, will be followed by a further investment in 2015.
Founded in 1995, Forte Music has established itself as a leading audio equipment provider in the country. With its new L-Acoustics fleet, the company aims to cater for customers looking for power, performance and quality: 'L-Acoustics has set the standard in the professional sound industry, and is one of the best brands on the market,' says M Yanakiev, Forte's owner. 'Being an L-Acoustics certified provider will enable us to offer to our customers the latest in audio technology and strengthens our position in Bulgaria.'
Forte's priority will be to introduce the L-Acoustics brand to key customers and provide training: 'L-Acoustics is not just a sound system manufacturer providing the best solutions for every project, but also an industry focused company that is keen to educate and train audio professionals,' Yanakiev says. 'They also back up their product with dedicated customer support. L-Acoustics is a brand that every distributor would want in its brand portfolio. As a loudspeaker manufacturer, it truly is one of a kind.'
More: www.fortebg.com
More: www.l-acoustics.com