Three NFL International Series matches played at London's Wembley Stadium, featuring the Miami Dolphins vs the Oakland Raiders, the Atlanta Falcons vs the Detroit Lions and the Jacksonville Jaguars vs the Dallas Cowboys. Keeping the sound ahead of the game, Robert Lawrence Event Production Resource installed an extensive range of Outline loudspeaker systems.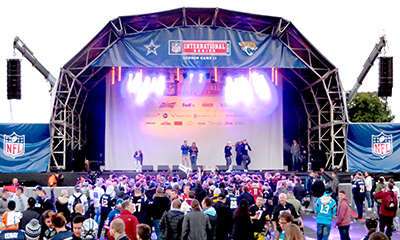 Each game had sold out Wembley's 90,000-capacity auditorium, with fans using merchandising, tailgate, game pass and VIP areas during the pre-game build-up, as well as watching the sports action. The systems serving the event included Outline's Butterfly, Mantas, DVS 118 SW subs, Doppia, DVS 12 and DVS 10, to distribute sound over large areas outside the Wembley Stadium.
Featuring bands and cheerleader performances as well as Q&A sessions by NFL greats, the installation ensured that, no matter what was on the stage, the entire site could hear the entertainment.
'The NFL is one of the world's biggest brands, and NFL games are followed all over the world,' says Robert Lawrence EPR MD, Lawrence Marchington. 'The international series at Wembley is a growing project that we are proud to be involved in. The versatility of Outline Audio's range makes distributing different sound requirements to different areas easier.'
The final game of the year, the Jacksonville Jaguars vs the Dallas Cowboys, saw a large mobile Orbit Stage built and performances used Butterfly, Mantas and DVS 118 SW subs to full effect.