Two new Soundcraft digital desks will cover the spread of performances and events hosted at the La Citrouille contemporary musical theatre in Saint-Brieuc, Brittany. Replacing an old Soundcraft MH3 analogue house desk, a Vi3000 will be used for FOH mixing, with a smaller Si Expression handling monitors.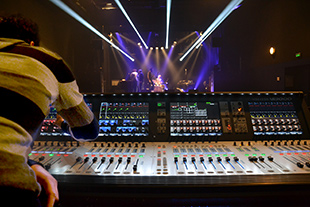 Responsible for the choice of consoles, Benjamin Bouet has worked at La Citrouille since 2003, initially in its studios. When the theatre opened in 2009, he became General Manager, and has remained the only house technician since January 2012 when the theatre received SMAC designation (certifying it as a live contemporary music room).
Ready to upgrade the MH3 and move into the digital world, Bouet was aware that the monitor desk lacked the required adjustable low-cut filter – and sensed that this, too, needed to be replaced.
Helping fund the Vi3000 for the capacity of 420-capacity (200 seated) venue was the local community and the CNV (National Centre for Variety). When it was used for the first time with the group Miossec, their sound engineer arrived with his show on a USB stick (saved from a Vi4). 'They just had to repatch a few effects in the console and it was perfect – and a big time saver,' Bouet recalls.
He adds that Soundcraft's release of the Vi3000 came with perfect timing, as it sits in the portfolio between the Vi1 ('very popular with technicians but insufficient faders for us') and the more expensive Vi4 and Vi6.
'Technicians are already experiencing great results,' he reports. 'The Dante capability of this console also attracted me and it will enable us to make multitrack recordings of some concerts. It opens up new perspectives.'
With the space saved at FOH, it is also easy to accommodate a second console when incoming engineers carry their own production. 'We welcome artists in residence, and it's great that they can walk away with their show on a USB key.'
For monitors, Bouet had wanted a console with at least 30 inputs on the same fader to avoid losing time by constantly changing layers on the menu. Soundcraft's Si Expression 3 met the requirement. 'Essentially, I was looking for a simple console that all the technicians could use, at an affordable price.'
Featuring 32 recallable mic preamps, the Si Expression 3 is a cost effective digital console that can expect to endure a heavy-duty life cycle. 'Soundcraft has a reputation for building robust, reliable desks, and this was another important factor – in fact their consoles have been in use for 20 years in our studios and are still working.'
After mixing monitors for three groups on the recent Transmusicales tour, Bouet confirms that the Si Expression functioned extremely well and certainly met all expectations.
Supplied by Harman distributor Eurolive, the new desks will take care of all eventualities. Aside from running concerts throughout the year, La Citrouille hosts meetings, as well as housing a 'rock school' where musicians can learn their craft, stages workshops in the performing arts and encourages youth theatre. 'And when we have residences, groups can prepare their shows and just plug in their file via USB stick.'
More: www.soundcraft.com